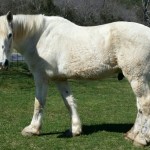 We have had Geronimo for one week and time has flown by.  Here is what we have accomplished this week with him:
He got a bath, he got his feet trimmed, the vet came to x-ray his feet,  and his hind legs were treated for mites!
His biggest issue is his foundered foot-it shows sign of previous abscessing and x-rays revealed severe rotation of the coffin bone as well as sinking.  He is such a trooper for enduring approximately 2 years with his foot like this. The other front foot is actively abscessing and we are working to rid him of the infection.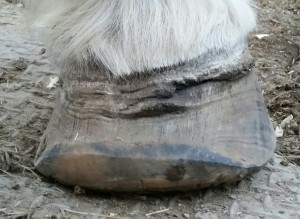 It has been difficult to determine if he has stringhalt in the back legs as his snappy hock action while not all of the time, is still present. The way he has to walk with his front feet very well contributes to the stringhalt like action of the hinds.
He has a big fluffy shavings pit that he likes to lay in several times a day when he needs a break. He receives 3 meals a day and as much Bermuda hay as he will eat.  He also loves Triple Crown's Safe Starch chopped forage for snacks!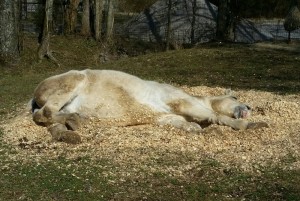 On nice days he is allowed to come out of his paddock to graze in the barnyard for about an hour and this makes him quite happy.  He is always pretty willing to return to his paddock for a snack and then a nap!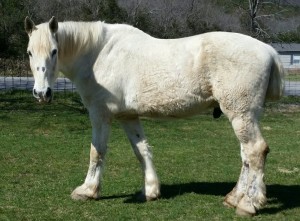 We are working as the weather permits to upgrade & improve our paddocks to be able to move him over next to some other horses. He is fine where he is as he can see them but will likely be even happier with neighbors.
He is a gentle, loving horse who is willing to please. I feel honored to be able to care for him.
Cindy Daigre, Founder
Ferrell Hollow Farm Senior Horse Sanctuary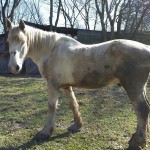 As many of you know, we began helping Geronimo in December as part of our "Christmas Cheer" program. We were unable to take him into the sanctuary at that time but wanted to see what we could do for this special boy.
He had worked as a carriage horse in Nashville for approximately 17 years, struggling with some lameness issues and then foundered on his left front foot about 2 years ago.  He is a very sweet guy and is estimated to be between 30 and 32 years old!
Even though we had assessed him and were trying to put measures in place to make him more comfortable, it became clear that to help him the most would require bringing him into our sanctuary.  While we are operating at capacity, it just seemed the right thing to do was to find a way to make it work.
For the time being, he will be in our quarantine paddock, which has shelter, until other accommodations can be completed.
What are his needs and what will they cost? (This is not an all-inclusive list but what we do know at this time)
Feed $100/month, Hay $175/month, Previcox (for arthritis) $75/month, Hoof Trims $40/month, Supplements for pain and gut health $60/month as well as Shavings for soft bedding, possible rubber stall mats and about $1,000 of pea gravel or other footing to resurface a paddock for him.
He will also need Vet care-radiographs for his feet to determine the severity of the founder, Dental care as it has been many years since his teeth were checked and he drops a lot of feed.
How can you help Geronimo? As a 501c3 charitable organization we rely on public donations to carry out our mission of helping at risk senior horses. We would love for you to commit to a monthly sponsorship or become a monthly donor!   www.ferrellhollowfarm.org
Stay tuned to learn more about this sweet old man!
Cindy Daigre, Founder
Ferrell Hollow Farm Senior Horse Sanctuary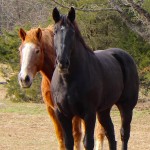 The day before our snow storm I had arranged for our vet and trimmer to be present at the same time so we could take x-rays of Buddy's front feet and determine further treatment options for him.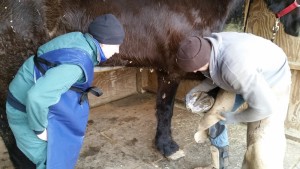 A little history on this gentle giant: Buddy came to us 4 years ago, at the mere age of 11-he had been a carriage horse since he was 3 but he started having significant issues with his joints and despite treatment and rest, he would never be sound to work again.  We offered him a permanent retirement where his needs could be addressed.
The fact that he is 2,500 pounds does not help his compromised joints. He had been diagnosed with severe osteoarthritis in his right hock, as well as having bone chips in 2 different joints.  Our vet said upon reviewing his hock x-rays (taken not long after his arrival), she was surprised he was even standing up as much as he is!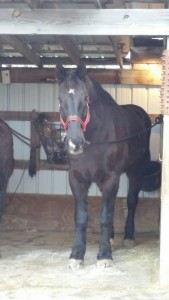 Over the past 2 years he has developed chronic, recurring abscessing in both front feet.  They have compromised his hoof quality as well as his mobility and crippled his quality of life.  Determined to find a solution to help him be more comfortable we decided to give Easy's Slipper a try for him, and hired Brad's Natural Hoof Care for his trim and installation.  While they did help him feel a bit better, there were issues with the glue not holding up on his cracked feet, all the while he continued to abscess. We decided it was best to remove the shoes, soak and wrap the right front foot, which was presenting with the most problems abscessing. That was done for several weeks before the vet came.  A lot of black drainage came out of that foot, it was mostly just rotten at this point. Of course, he continued to be lame, but getting to the root of the infection was going to be important to effectively stop the cycle of pain-lameness-abscess.
We were concerned about infection penetrating the coffin bone, or worse yet a fracture in the coffin bone. The results of the x-rays were not really surprising, but they did give us more information on further treatment. He does have a fairly significant amount of coffin bone reabsorption, a trapped abscess pocket and likely infection in the coffin bone. He was trimmed according to the x-rays, removing a lot of the decaying toe material and leaving access to packing and hopefully draining out the rest of the infection.
He will need to go on antibiotic medication for at least a month, probably more. A big horse requires a big dose twice a day! Both feet need to be soaked, packed and wrapped for a period of time to draw out the infection.  Is it a sure thing that with antibiotics and the hoof treatment we will beat the infection? No, it isn't. But as our trimmer Brad said to me, "We won't let him go down without a fight!"
As difficult and emotional as this has been for me, having a support system such as our vet and trimmer on board with his treatment plan, sure makes it feel like I am not alone in this fight!
Buddy is our January Horse of the Month. If you would like to help support Buddy by being a monthly sponsor, giving a one time donation towards his care, or purchasing an item off of his Wish List, we would sure appreciate it!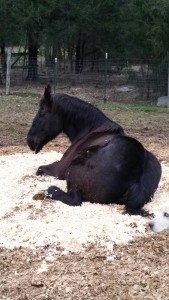 Cindy Daigre, Founder
Ferrell Hollow Farm Senior Horse Sanctuary
Like our Facebook page and stay up to date on what is happening at the sanctuary!
Days like today, while not uncommon, inspire me to write.
The alarm goes off at 4 am each morning, just in case I forgot to soak the buckets of hay pellets for Henry, Jackson and Tom the night before (yes, there have been evenings where I fell asleep and forgot!). They must soak for an hour before feeding and since Henry and Jackson demand I be prompt with their 5 am breakfast, I must rise that early.
Shiloh, our little Mustang has COPD and has had a tough Fall with his allergy induced respiratory issues. He has been on and off steroids to control his wheezing and Heaves, but just this past week I was able to step him down and off of them. The cold winter months are usually good for him, but this morning the little guy was wheezing. UGH! A dose of Respi-Free for now and steroids will likely need to be resumed in the evening.
During the lunch feeding, I notice Buddy had made it from the lower pasture up to his main run in shelter and wondered why he gimped up the hill alone. I decided I had better check on him, as he was barely putting weight on the right front due to an impending abscess. Chronic abscesses in both of his front feet have been plaguing him for months. One opened in the heel of the left front foot a couple of days ago, but the right front foot has been building like a pressure cooker, near to coming to the surface.
When he saw me, he let out a high pitched squeal telling me he was happy to see me. He had been munching hay and was deciding if he wanted to make the trek back down the hill to be with his BFF's Mikey & Tom. We shared an apple and I decided he could use a "snack" of some senior feed while I groomed him.  As I left him to care for the others, I felt like the abscess was very close to opening up within a day, which meant relief was on the horizon.
I was determined to scrub Ellie's legs today. She is a heavily feathered Shire who has endured some trauma with her past life handling.  She resents having her legs or feet worked on. She had been biting at and making sores and stomping to relieve the itch. To stay safe, a little sedation was in order before undertaking the task.
Before I begin, Kristen, our amazing Sunday volunteer, had hiked thru the pastures to tell me that Shiloh is wheezing pretty hard and I might need to go check on him. So I trekked thru down the fields to find he and Mary standing in their shed resting, and little man is wheezing and heaving worse than at breakfast. No need to delay treatment, so an injection was in order!
After getting back to the barn, I got Ellie to work on her. She decided seeing Siegfried off in the distance was not good enough, she needed him right nearby! So I brought him over-he was elated to find some fresh sprigs of green grass, but was unconcerned that Ellie needed him. The sedation the vet left for her must have been an extremely conservative dose because she never got sleepy, only a bit relaxed.  I did the best I could, and was pleased she didn't try to kick me in the head-success!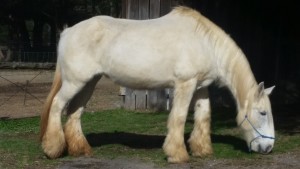 Onward to work on Max-or Mad Max as we often call him, since he has Jekyll and Hyde personality traits! I trust him as far as I can physically throw him not to kick me when working on his legs! He is extremely reactive when working on his legs, so a big tub of hay mixed with alfalfa, apples and treats keeps his mind off of what I am doing, and keeps me safe (most of the time).   He was good as long as the apples lasted, so when the treats were gone, we called it a day-another success!
It is then time to soak meals for Henry, Jackson and Tom (yes, again) and perhaps take a half hour rest. Much to my surprise and delight, Lyric, another awesome volunteer, called to say she had made me a Nut Loaf and was bringing it over so I didn't have to think about dinner! It's a gluten free, vegan recipe that I shared with her, that has now become a favorite. Wow and Yum!
When it's time to feed Shiloh again, I was pleased to see that the steroids had already calmed down the wheezing! Hoping another round of a low dose will set him straight and he can be medication free for the remainder of the winter.
It's now time for the big boys to come in from their daytime pasture.  Tom is ready, lets out a rare whinny, and Mikey has no problem taking orders to follow! He is our 2,500 pound, 20 hand Belgian who is always ready to eat.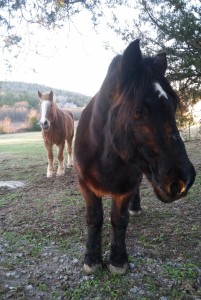 Poor Buddy makes his way slowly up to the shed, but I was delighted to see that the abscess was now open and draining! After carefully cleaning that one, I proceeded to clean the left front heel that is still draining. WHEW, he will be feeling better soon!
Mikey recently abscessed in his left hind foot, and it is still draining, requiring twice a day cleaning. He had been lame for a few days, but is moving well and other than being sensitive about the area where it opened up, is feeling better!
While old man Tom is not without some issues, he rarely causes any trouble-laid back and easy going.  I just so happened to check under his tail and to my disappointment find he needed to be cleaned. He is a very hard keeper when not on grass, but giving him extra winter pasture has kept him healthy and free from the "squirts". After fetching some warm water and a rag to clean him, as I approached to begin he starting projectile squirting brown liquid. That folks, was the very moment, that I decided to call it a day!
If you are looking for me, I will be in hibernation until the alarm goes off at 4 am!
Happy New Year to all!
Cindy Daigre, Founder
Ferrell Hollow Farm Senior Horse Sanctuary
www.ferrellhollowfarm.org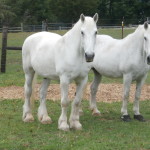 On 9/1/15 we said good-bye to our lovely Snow White.  She had been rescued in early 2012 from a kill auction, thin, dirty, and discarded with terrible feet that needed a lot of work.  We brought her to our sanctuary a few months after she had been saved to be a companion for Siegfried.  The two instantly bonded and became inseparable-we called them our Royal Couple-beautiful and regal.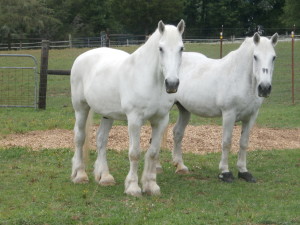 Over the 3 years she was with us she suffered from various conditions-the previously foundered foot that needed rehab, and Cushing's Disease.  Thru it all, she remained strong and we gave her everything she could have wanted, mostly the love she may have not known in her younger years.  She was a grand old lady, at least 35 years of age, and we miss her dearly-and Siegfried certainly does as well.  They shared that once in a lifetime bond that can not be replaced.
We are expecting her final costs (vet bills and cremation) to be around $1,500.  If you feel so inspired to help with that, we would certainly be grateful.
Rest easy old girl,  your troubles are now behind you!
Please take a few moments to watch the Tribute Slideshow we have put together in Snow White's memory.
Thank you,
Cindy Daigre, Founder
Ferrell Hollow Farm Senior Horse Sanctuary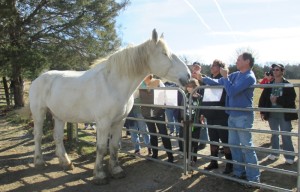 We have had a very busy month, and it does not appear to be slowing down!  Our Open House event on 11/22 brought out a great crowd of people, the weather was perfect and the horses enjoyed the day!
We have several items for sale that are great for gift giving! Photo book-marks of the horses, photo notecards, and photo charm jewelry-contact us if you are interested in making any of these purchases!
We also have our Benefit Wines available-they are available by ordering online here: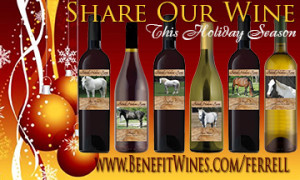 If you would like to purchase holiday gifts for the horses, visit our Wish List for ideas! Items can be purchased from the listed websites and shipped direct, and store credit at our local feed stores or gift cards are always welcomed!  Monetary donations are needed as well so that we can continue to provide the best possible care to our senior horses–your donations are tax-deductible as we do have 501c3 tax exemption status!
Horsey News:
The change in seasons has brought about an array of issues for the horses which have been quite costly.  Buddy had a colic episode which appeared to set off some ulcers, Shiloh's COPD became out of control where he could not breathe (or eat), and Mikey has a cancerous growth on his eye that is being removed this week.  Four vet visits in two weeks is a lot to endure!  Then there are the seniors that have such digestive upsets that it is costing a fortune on trial and error supplementation to find what will work to clear those issues, Siegfried's battle with hoof abscesses and Snow White's intolerance to her Cushing's medication!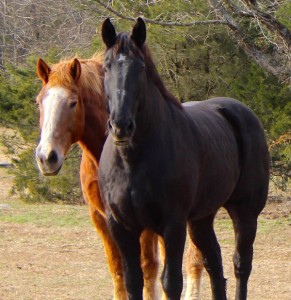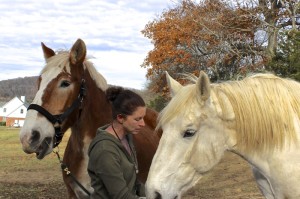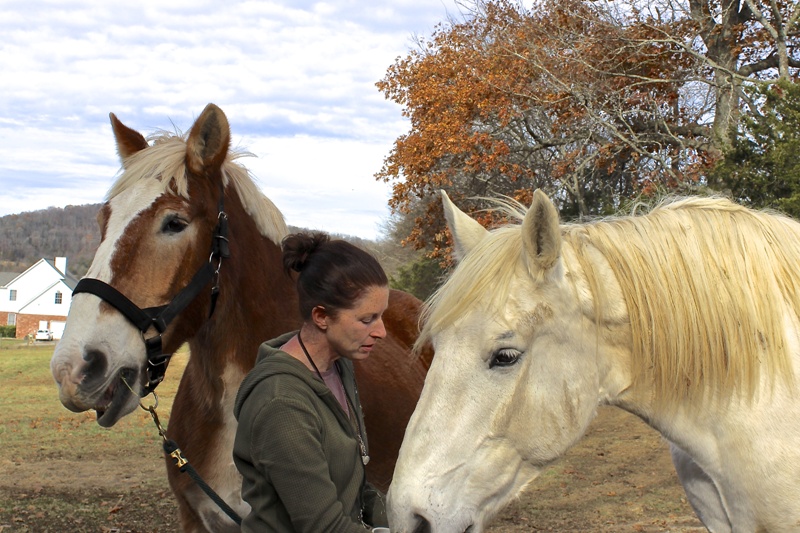 I have dedicated my life to giving these sweet souls what others would not, and I truly appreciate everyone who joins me in my crusade 🙂
Peace to all!
Cindy Daigre, Founder
Ferrell Hollow Farm Senior Horse Sanctuary
It has been two weeks since Arthur and Max arrived to our sanctuary.  They were emaciated from starvation, weak and exhausted from the travel and fearful of what would happen next.  In the first few days they had their feet trimmed, had a vet evaluation and then saw the dentist.  It took Arthur a couple of days to recover from his sheer exhaustion before he really started eating much.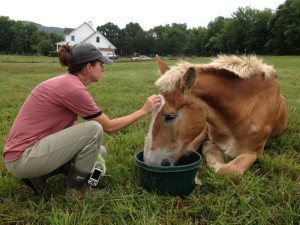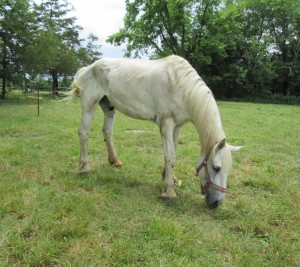 What we have discovered about each one of them:
Arthur is a 30 year old Belgian draft gelding.  He is missing two teeth in the back and his front teeth are worn.   His blood work was fairly normal and he has not had any infections.   He is laid back, quiet and sweet despite having had a hard working life.  He is slowly starting to look better physically–his bony points are not as sharp and his belly is getting filled.  He has access to pasture and hay at all times and also gets several soaked meals, which he enjoys eating.  He has some swelling in his hind legs which may be related to some itchy dermatitis.
Max is around 20 years old.  He is not missing any teeth, however the upper three teeth on his right side have grown abnormally due to injury and don't meet the bottom ones, causing him to drop feed.  He will need further dental work to address that.  He came in with a respiratory infection (coughing and nasal discharge), and while that has gotten better, it is not completely resolved. We feel he has been mistreated and had a significant injury that affects his back and also his mouth.  He has started to show some dominant behavior-aggression towards Arthur at meal times even though they are fed apart, and some irritability at being touched. While he can be pleasant at times, he does not trust humans, and we can't really blame him.  He will require special management which will likely be long term and hope he will learn to trust and that his moods level out.
Please continue to support our efforts as these boys continue their 30 day quarantine and rehab.  All donations and sponsorhips for them go towards what they need: Feed, Hay, Supplements, Medications, and Hoof Care.  We need to purchase another 250 bales of bermuda hay to accomodate their needs this winter and they eat a lot of soaked hay pellet/forage meals too!  They will also need a weatherproof draft turnout sheet before the winter.   Thank you so much to all who have contributed to our efforts bringing these two senior drafts to their forever retirement home!   www.ferrellhollowfarm.org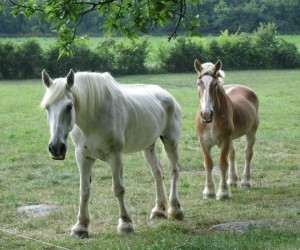 When we became aware of these two horses plight for life and no one was stepping in for them, we had to try to save them.  Thanks to the amazing supporters we have, we were able to and they arrived mid day on July 19, 2014.  Their condition was SHOCKING!  Photos of them from presumably the week before showed thin, old work horses, but that was certainly not the case when they came to their forever home at our sanctuary!  They were skeletons, emaciated and weak.  Arthur was suffering from extreme exhaustion, so much so, all he could do was lay down, even though he was turned out in a big grassy pasture, he had no strength to eat.  He was fighting for his life!  No horse should ever have to endure whatever these sweet boys had gone thru.  Scars from years of hard service to man, passed around from dealer to auction to kill buyers. We don't know their real story, only bits and pieces of what was told to us, true or not.  One thing was certain-we would do whatever was necessary to try to bring them back to health!
Arthur is a Belgian in his late twenties (we think) but his teeth are worn and he still needs to have a dental exam.  Initial vet exam revealed that he is indeed suffering from stress and some inflammation.  In the first two days, he would only take a nibble of food that was offered to him, so our priority has been finding something to tempt his appetite and offer him small meals frequently.  By day 3 he was able to eat 3 small meals and has started to graze and be more interested in his surroundings.  Arthur is a sweet boy, but it will take him some time to trust that he is indeed here forever and no more harm will ever come to him.
Max is a Percheron in his early twenties and he has terrible teeth that do interfere with his eating.  He has a good appetite and will at least try to eat what is offered.  His thin body is riddled with scars and he has some issues with his back end on the left side.  He is a very big boy (18.2 hands tall) and several hundred pounds underweight.  He has an upper respiratory infection and is being treated with antibiotics. Max is friendly, curious and likes attention.
Since their arrival, both boys have had their feet trimmed and seen the vet.  A dental exam will be soon.
Arthur and Max are required to stay in a Quarantine area for 30 days since they have been at auctions and have an unknown medical history-we maintain strict protocols to make sure we do not infect any other horse at the sanctuary.
We hope you will follow the boys progress-we try to update our supporters via Website, Email, Blog entries and Facebook posts.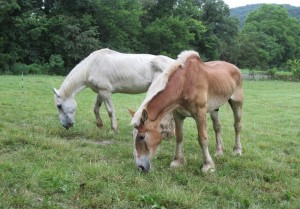 Please continue to support our efforts with senior draft horses!  Here are some ways you can do that:
Donations-Recurring or Monthly donations are needed to provide all of the care they need-Feed, Hay, Supplements, Medications, Hoof Care, Vet and Dental work expenses add up!
Sponsorship-Sponsor one of the boys where your monthly contribution will help feed and care for them!
Donated Goods-check our website Wish List for needed supply items!
*Our sanctuary is closed to the public except for our Open House events*
* Persons interested in becoming a volunteer will need to send an email inquiry, be sc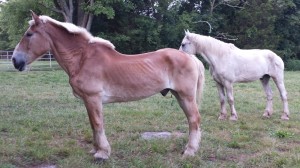 reened to see if you are a fit for our organization and are required to complete an application*
Thank you!
Cindy Daigre, Founder
Ferrell Hollow Farm Senior Horse Sanctuary
Life with Liz is challenging.  Imagine the life she led for at least 12 years: pregnant every year, confined to a standing stall with her urine being collected for 7 months out of an 11 month pregnancy, with little human interaction, her foals just a "by-product" of her preganancies.  Now that she's off the "pee line" she's been forced to conform in a domesticated soceity but was never taught how to handle that.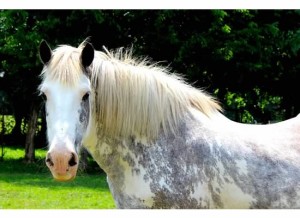 Doctors prescribe hormone replacement therapy drugs to hundreds of menapausal women and one of the most commonly used drugs is Premarin (Pregnant Mares Urine).  Wyeth (a division of Pfizer) manufactures Premarin and this is how it is made: Mares are kept pregnant year after year, and for 7 months of their gestation, they are confined to standing stalls and wear a urine collection device at all times.  Once they give birth and the foals are weaned, the process starts over again.  Foals are considered a by-product of the industry and go to auction, and when the mares can no longer conceive, they too are shipped off.
Even though the PMU ranchers must follow a code of practice,  were horses put on this earth to be exploited in this way?  If they are lucky enough to escape the slaughter pipeline when used up, there seems to be only two options for them: 1-turn them out on large tracts of land where they do not have to be handled by humans, and are no longer expected to reproduce and give urine and live their life freely, or 2-attempt to win their trust and gentle them to humans.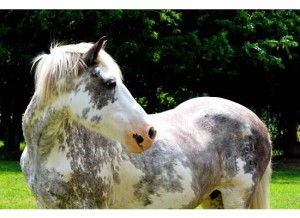 In Liz's case, I would take 1 step forward, and at least 2 backwards for months.  Then, when it was time for full turnout, things seemed to even out.  I was farther along with her training, and some days it seemed she was almost "normal".  Then Spring came, and her hormones likely out of whack from not being bred, she has become extremely reactive and fearful to touch.  What do we do?  Calming supplements, herbs to help ease her cycles, how long do we wait, what is acceptable?
The relationship I have built with Liz is one of mutal respect.  I respect that she is the way she is, but also I have a few expectations of her.  They are not unrealistic.  Some days to her they must seem so.  She trusts and respects me to a point.  No one else has this from her, and likely never will.  She is pychologically damaged by the life she was forced to live by a money hungry pharmaceutical company and it is more than challenging.  Lovely Liz, you are at our sanctuary for life–you have a good one now and I think you know it 😉
Please take the time to educate yourself, your family and doctors on the PMU industry and just say No to Premarin!
http://www.horsefund.org/pmu-fact-sheet.php
http://tuesdayshorse.wordpress.com/2013/11/08/big-pharma-wins-again-fda-approves-aprela-under-new-name/
http://alexadry.hubpages.com/hub/The-Truth-Behind-Premarin
Thank you!
Cindy Daigre, Founder
Ferrell Hollow Farm Senior Horse Sanctuary
Photos curtesy of Sue Doyle