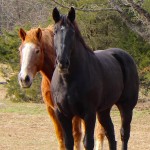 The day before our snow storm I had arranged for our vet and trimmer to be present at the same time so we could take x-rays of Buddy's front feet and determine further treatment options for him.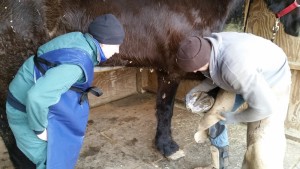 A little history on this gentle giant: Buddy came to us 4 years ago, at the mere age of 11-he had been a carriage horse since he was 3 but he started having significant issues with his joints and despite treatment and rest, he would never be sound to work again.  We offered him a permanent retirement where his needs could be addressed.
The fact that he is 2,500 pounds does not help his compromised joints. He had been diagnosed with severe osteoarthritis in his right hock, as well as having bone chips in 2 different joints.  Our vet said upon reviewing his hock x-rays (taken not long after his arrival), she was surprised he was even standing up as much as he is!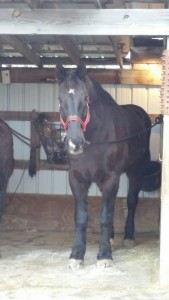 Over the past 2 years he has developed chronic, recurring abscessing in both front feet.  They have compromised his hoof quality as well as his mobility and crippled his quality of life.  Determined to find a solution to help him be more comfortable we decided to give Easy's Slipper a try for him, and hired Brad's Natural Hoof Care for his trim and installation.  While they did help him feel a bit better, there were issues with the glue not holding up on his cracked feet, all the while he continued to abscess. We decided it was best to remove the shoes, soak and wrap the right front foot, which was presenting with the most problems abscessing. That was done for several weeks before the vet came.  A lot of black drainage came out of that foot, it was mostly just rotten at this point. Of course, he continued to be lame, but getting to the root of the infection was going to be important to effectively stop the cycle of pain-lameness-abscess.
We were concerned about infection penetrating the coffin bone, or worse yet a fracture in the coffin bone. The results of the x-rays were not really surprising, but they did give us more information on further treatment. He does have a fairly significant amount of coffin bone reabsorption, a trapped abscess pocket and likely infection in the coffin bone. He was trimmed according to the x-rays, removing a lot of the decaying toe material and leaving access to packing and hopefully draining out the rest of the infection.
He will need to go on antibiotic medication for at least a month, probably more. A big horse requires a big dose twice a day! Both feet need to be soaked, packed and wrapped for a period of time to draw out the infection.  Is it a sure thing that with antibiotics and the hoof treatment we will beat the infection? No, it isn't. But as our trimmer Brad said to me, "We won't let him go down without a fight!"
As difficult and emotional as this has been for me, having a support system such as our vet and trimmer on board with his treatment plan, sure makes it feel like I am not alone in this fight!
Buddy is our January Horse of the Month. If you would like to help support Buddy by being a monthly sponsor, giving a one time donation towards his care, or purchasing an item off of his Wish List, we would sure appreciate it!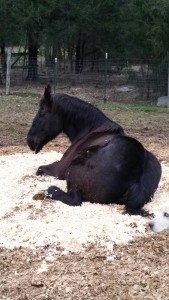 Cindy Daigre, Founder
Ferrell Hollow Farm Senior Horse Sanctuary
Like our Facebook page and stay up to date on what is happening at the sanctuary!
It has been two weeks since Arthur and Max arrived to our sanctuary.  They were emaciated from starvation, weak and exhausted from the travel and fearful of what would happen next.  In the first few days they had their feet trimmed, had a vet evaluation and then saw the dentist.  It took Arthur a couple of days to recover from his sheer exhaustion before he really started eating much.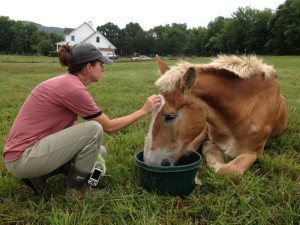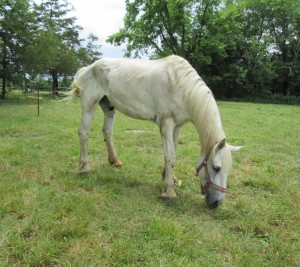 What we have discovered about each one of them:
Arthur is a 30 year old Belgian draft gelding.  He is missing two teeth in the back and his front teeth are worn.   His blood work was fairly normal and he has not had any infections.   He is laid back, quiet and sweet despite having had a hard working life.  He is slowly starting to look better physically–his bony points are not as sharp and his belly is getting filled.  He has access to pasture and hay at all times and also gets several soaked meals, which he enjoys eating.  He has some swelling in his hind legs which may be related to some itchy dermatitis.
Max is around 20 years old.  He is not missing any teeth, however the upper three teeth on his right side have grown abnormally due to injury and don't meet the bottom ones, causing him to drop feed.  He will need further dental work to address that.  He came in with a respiratory infection (coughing and nasal discharge), and while that has gotten better, it is not completely resolved. We feel he has been mistreated and had a significant injury that affects his back and also his mouth.  He has started to show some dominant behavior-aggression towards Arthur at meal times even though they are fed apart, and some irritability at being touched. While he can be pleasant at times, he does not trust humans, and we can't really blame him.  He will require special management which will likely be long term and hope he will learn to trust and that his moods level out.
Please continue to support our efforts as these boys continue their 30 day quarantine and rehab.  All donations and sponsorhips for them go towards what they need: Feed, Hay, Supplements, Medications, and Hoof Care.  We need to purchase another 250 bales of bermuda hay to accomodate their needs this winter and they eat a lot of soaked hay pellet/forage meals too!  They will also need a weatherproof draft turnout sheet before the winter.   Thank you so much to all who have contributed to our efforts bringing these two senior drafts to their forever retirement home!   www.ferrellhollowfarm.org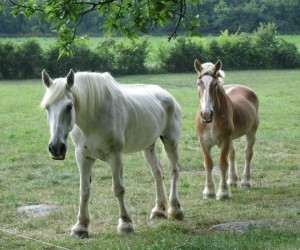 Seven years ago a woman came to visit the farm and see if what we had to offer was what she wanted for her senior mare, Maggie, who needed retirement care at that time.  They had been long time companions and she wanted her taken care of during her golden years.  All of the years Maggie has been here, she enjoyed everything that we could offer her, despite the continual health challenges of aging.  Her dental health continued to decline, not being able to eat hay for the past 3 years, but we lovingly tended to her thru seven winters!  She came into this spring looking radiant, but in recent weeks began to decline and was diagnosed with a terminal illness. She had just turned 33 in March!
All who met sweet little Maggie fell in love with her-she enjoyed affection and grooming and most of all, her best buddies-first it was Willie, a chestnut gelding who has passed on, then for the past year with Ruby & Henry, who she has adored! We were truly blessed for being allowed to care for Maggie in her long and peaceful retirement.
Maggie, you will be greatly missed by all of us at Ferrell Hollow Farm, your human family and everyone who ever knew you-rest in peace now sweet girl-we love you!
Cindy Daigre, Founder, Ferrell Hollow Farm Senior Horse Sanctuary www.ferrellhollowfarm.org
We've had the coldest new year on record in 20 years!  Caring for a dozen special needs senior horses on a daily basis, without temperature extremes can be exhausting, never knowing what you might face on any given day.  Add in sub zero temperatures, wind, frozen ground for days, snow….well you get the picture-COLD!
In the middle of afternoon feeding rounds, as I was dreaming about sitting in front of the wood-stove, I saw that Snow White was laying down in her frozen shavings pit with Siegfried standing next to her.  Visions like this stop me in my tracks.  I knew that several days of frozen ground were not kind to her foundered foot, and that she was tired from not laying down for a night or two.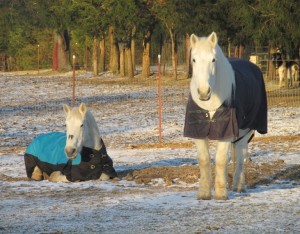 All thoughts of how my knees were aching, hands were hurting, how cold and tired I was faded away.  All that mattered was how could I help this sweet old lady feel better.  Discovering that all the faucets in the barn were now frozen, despite all efforts to keep them working, I had to use a crow bar to hack thru 6 inches of ice in the water troughs making a hole large enough for a bucket to dip down in order to fill all heated tubs and buckets.  Drinkable water was crucial.  As I cleaned their large run in shelter which is floored with stall mats and shavings, I carefully picked out any frozen nuggets of manure that would be uncomfortable for her to walk or stand on.  Then I added several bags of fresh shavings to the pit she likes to lay in, making it soft and fluffy instead of cold and frozen.  Hay nets are always hung in the areas where mats are on the ground so they can stand in comfort.
She rose and came over to eat her dinner and went on about her business as usual.  It only takes a moment like this, seeing these two gentle giants comforting each other to remind me about what my life's purpose is–to give back to these forgotten old souls that need a soft place to land.  Our mission is to give sanctuary to senior horses who would otherwise not have a chance at a forever retirement home.  It is truly my honor to care for them each and every day, no matter the weather conditions, to keep them safe, healthy and as comfortable as possible for the time that they have left with us.  Consider supporting our efforts if you can.  Donations are always needed to help care for them.
Cindy Daigre, Founder
Ferrell Hollow Farm Senior Horse Sanctuary
Follow us on Facebook
The seasons have changed and Fall is my favorite time of year-cooler, but not cold temperatures and the foliage colors are what I love the most. It has taken us this past month to grieve the loss of Francis, and adjust to the new herds and routine. We had the arrival of Snow White and she and Siegfried have become good pals!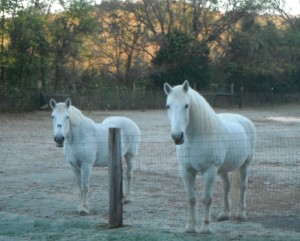 We have several events happening this Fall:
November 16, 17, and 18 Craft Artists Studio Tour/Ferrell Hollow Farm Open House! Hours are Friday & Saturday 10-5 and Sunday 12-5. Alan's studio/workshop is open to the public and will house his fine furniture and wooden items, Cindy's hand crafted body products and Mike & Louise Kelly's wonderful pottery. Volunteers will be able to assist you with tours of the farm, our log home and gardens. Come and have some fun with us!
Alan has graciously agreed to make and donate a fabulous Rope Rocker to the sanctuary! For every $50 donation made to Ferrell Hollow Farm for the Rockin' For the Seniors Fundraiser, you will be entered to win! Donations accepted thru 12/14 and the winner drawn on 12/15. If you have never experienced sitting in one of Alan's rockers, the Studio Tour is the time to come try one out! They are truly unbelievable!
We have created Wish List's for all of our sanctuary horses in hopes that they will receive some goodies for the holidays. Visit their individual pages for what they would like!
We would love to see all sanctuary horses get Sponsored to help with their ongoing costs. All sponsor levels will receive a photo charm of their sponsored horse and higher levels will also receive a piece of jewelry made with their mane or tail!
We have received many donated items and have an Auction page on Facebook where items can be bid on. The current auction items will end on 11/30/12, so take a look to see if there is anything you might be interested in!
All of these are ways that you can help us to help our sanctuary seniors!
Ferrell Hollow Farm Senior Horse Sanctuary Wish List
Standlee Hay Cubes or Pellets
Sweet PDZ
Diatomaceous Earth
Fine Pine Shavings-in bags
Disposable Non Latex Gloves
Unscented Baby Wipes
Proof of Purchases from Triple Crown feeds
Visit our website to make a monetary donation to the sanctuary or ask us how to sponsor one of the horses! www.ferrellhollowfarm.net
We are a Tennessee registered non profit organization, currently filing for 501c3 tax exemption status.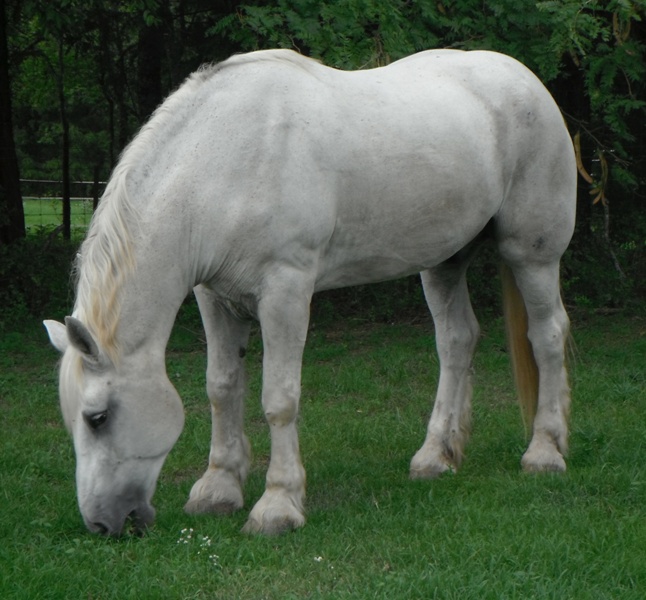 Big Mack, 27 y/o Percheron gelding
Ferrell Hollow Farm Senior Horse Sanctuary is a registered Non Profit corporation in the state of TN, currently filing for 501c3 status as a charitable organization.
Our mission is to advocate and care for senior horses over the age of 20 in need of a sanctuary setting, that are not afforded adequate care and would be considered at risk of neglect or abuse, if left in their current situation.
I could not do without this Peppermint Scrub after a long hard day on my feet! A perfect gift for your favorite gardener 🙂 http://www.ferrellhollowfarm.net/Store.html