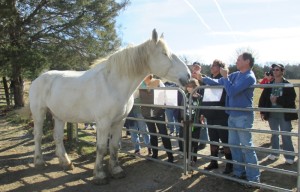 We have had a very busy month, and it does not appear to be slowing down!  Our Open House event on 11/22 brought out a great crowd of people, the weather was perfect and the horses enjoyed the day!
We have several items for sale that are great for gift giving! Photo book-marks of the horses, photo notecards, and photo charm jewelry-contact us if you are interested in making any of these purchases!
We also have our Benefit Wines available-they are available by ordering online here: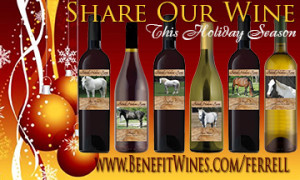 If you would like to purchase holiday gifts for the horses, visit our Wish List for ideas! Items can be purchased from the listed websites and shipped direct, and store credit at our local feed stores or gift cards are always welcomed!  Monetary donations are needed as well so that we can continue to provide the best possible care to our senior horses–your donations are tax-deductible as we do have 501c3 tax exemption status!
Horsey News:
The change in seasons has brought about an array of issues for the horses which have been quite costly.  Buddy had a colic episode which appeared to set off some ulcers, Shiloh's COPD became out of control where he could not breathe (or eat), and Mikey has a cancerous growth on his eye that is being removed this week.  Four vet visits in two weeks is a lot to endure!  Then there are the seniors that have such digestive upsets that it is costing a fortune on trial and error supplementation to find what will work to clear those issues, Siegfried's battle with hoof abscesses and Snow White's intolerance to her Cushing's medication!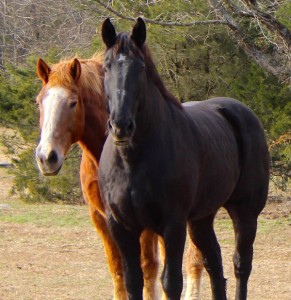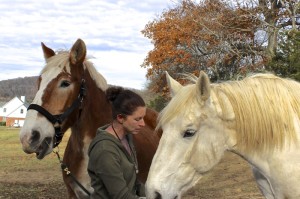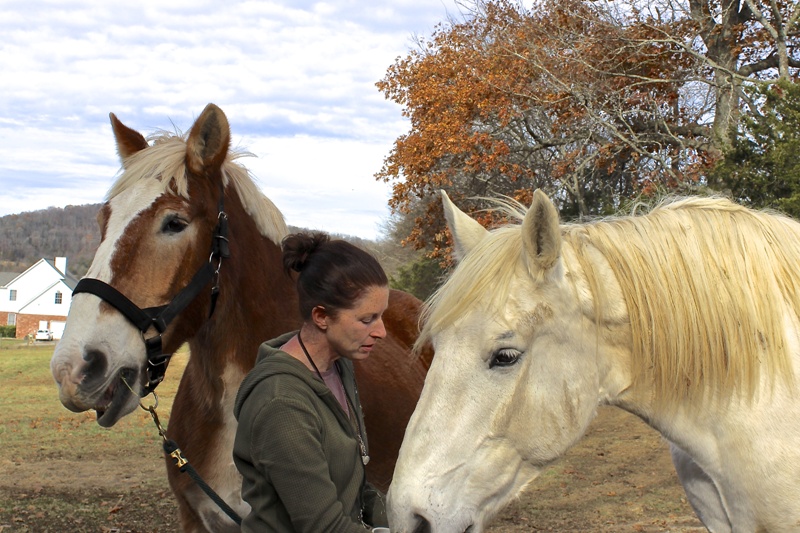 I have dedicated my life to giving these sweet souls what others would not, and I truly appreciate everyone who joins me in my crusade 🙂
Peace to all!
Cindy Daigre, Founder
Ferrell Hollow Farm Senior Horse Sanctuary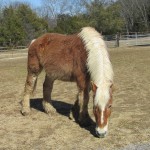 Jackson is a 25 year old Belgian draft horse that we know little about except he was used for harness work and needed a forever home with lots of TLC!  He is a nice guy and it's all about the food for him!  He requires soaked meals and fine, soft hay.  He needs lots of grooming, a customized diet plan, and hoof care needs addressed.  He is extremely itchy, so much so, he has numerous sores all over, especially in between the hind legs and uses whatever tree he can find to rub on!  We need to purchase him a draft halter, start him on a supplementation plan to address his issues and goodness gracious all of the soaked meals he will require!
Please consider a donation to our sanctuary to help with not only Jackson's expenses, but the others in our care.  All contributions are tax deductible as allowed by the IRS as we are a 501c3 non-profit charity.
Enjoy these photos from Jackson's first day!
We've had the coldest new year on record in 20 years!  Caring for a dozen special needs senior horses on a daily basis, without temperature extremes can be exhausting, never knowing what you might face on any given day.  Add in sub zero temperatures, wind, frozen ground for days, snow….well you get the picture-COLD!
In the middle of afternoon feeding rounds, as I was dreaming about sitting in front of the wood-stove, I saw that Snow White was laying down in her frozen shavings pit with Siegfried standing next to her.  Visions like this stop me in my tracks.  I knew that several days of frozen ground were not kind to her foundered foot, and that she was tired from not laying down for a night or two.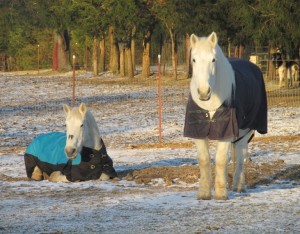 All thoughts of how my knees were aching, hands were hurting, how cold and tired I was faded away.  All that mattered was how could I help this sweet old lady feel better.  Discovering that all the faucets in the barn were now frozen, despite all efforts to keep them working, I had to use a crow bar to hack thru 6 inches of ice in the water troughs making a hole large enough for a bucket to dip down in order to fill all heated tubs and buckets.  Drinkable water was crucial.  As I cleaned their large run in shelter which is floored with stall mats and shavings, I carefully picked out any frozen nuggets of manure that would be uncomfortable for her to walk or stand on.  Then I added several bags of fresh shavings to the pit she likes to lay in, making it soft and fluffy instead of cold and frozen.  Hay nets are always hung in the areas where mats are on the ground so they can stand in comfort.
She rose and came over to eat her dinner and went on about her business as usual.  It only takes a moment like this, seeing these two gentle giants comforting each other to remind me about what my life's purpose is–to give back to these forgotten old souls that need a soft place to land.  Our mission is to give sanctuary to senior horses who would otherwise not have a chance at a forever retirement home.  It is truly my honor to care for them each and every day, no matter the weather conditions, to keep them safe, healthy and as comfortable as possible for the time that they have left with us.  Consider supporting our efforts if you can.  Donations are always needed to help care for them.
Cindy Daigre, Founder
Ferrell Hollow Farm Senior Horse Sanctuary
Follow us on Facebook
The first of May we took in an aged Belgian draft horse we named Henry-for those of you who do not follow us on Facebook, Henry has quite the devoted fan club!  In his mid to late 30's, he worked hard for humans his entire life, has the scars to prove it, and his thanks for service was to take him to auction and discard him like trash for the kill buyers to purchase him for slaughter.  Fortunately we had enough support to intervene and brought him to our sanctuary to retire in peace.
Now that Henry looks "normal" and is happy, our support in the form of financial donations have drastically dropped over the past 2 months, so low in fact, we are unsure how we are going to pay our current vet bill for Big Mack, Buddy and Eagle!
The dentist needs to be scheduled for the horses, and the monthly costs of feed, hay, supplements, medications and hoof trims must also occur.
We are asking you to consider a donation, whether it be one time or a recurring monthly contribution, all of which will enable us to give these wonderful horses what they deserve and allow them to be their best under our care.
Please feel free to share this with others, the more that know about our work with special needs senior horses, the more support we are likely to gain.
For more information about our horses, please view each of their Web pages!  We also have a page for our current Fundraisers, to include T-shirt and Wine sales and a chance to own a fabulous custom rope rocker!  We also keep a Wish List of items we routinely use.If you shop on-line, you can install the iGive.com button safely on your computer and help support our sanctuary while you shop!  This is a free and easy way to help!
Thank you for your continued support!
Cindy Daigre, Founder, Ferrell Hollow Farm Senior Horse Sanctuary
June 26, 2013.
Sunday March 3rd I received a call to help a draft x horse in need of getting out of a bad situation.  Because this was a good friend of mine calling and I knew it was a desperate situation, I agreed even though I did not know anything about the horse.  Once the horse was loaded for transport, I was told it was a mare, she was thin and probably blind with a bad left hind leg.
I got the Quarantine paddock and shed ready for her arrival.  As you can imagine, she was very scared to come off of the trailer and into the paddock.  However once she got a whiff of some yummy orchard grass hay, she relaxed and dove right in!  I named her Ruby.  She is 16 hands tall, weighs a bit over 1,200 lbs and wears a size 82 blanket.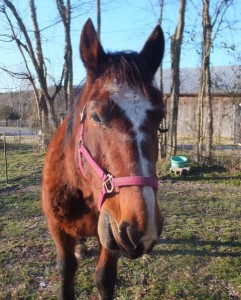 The vet came to check out Ruby today.  She has very little vision in either eye, the right one is cloudy from some sort of an injury.  Her hocks are quite large and there is some soft swelling on the front of the left one.  She came infested with lice, which have been treated.  She has sores all over and her tail has been rubbed off from the intense itching lice cause.  She has had many foals and fortunately she is not in foal now!  She needed a mild float but overall her teeth are in good shape, but do show quite a bit of aging, we estimated her to be at least 25 years old.
I will await her blood test results before making any changes with her, but she will remain in quarantine until the end of March in case she develops any contagious diseases.  She will continue to receive proper care and nutrition and when she is ready will be introduced to a new equine friend!
Ruby is a complete sweetheart!  She uses her nose, feet and sense of smell and hearing to guide her around the paddock to the hay and water.  She is very patient and waits for meals and attention very quietly and is easy to work around.  It will be a challenge to get her feet trimmed with her joint issues, but my vet, who knows me well said, "Cindy put her on some of your herbal mixes, and with your proper nutrition and TLC,  in 30 days she will look like a different horse!" 🙂  Donations towards Ruby's care are much appreciated!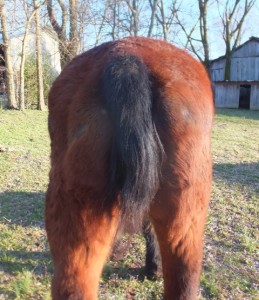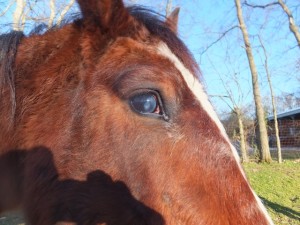 Ruby's injured right eye with limited vision.
Ruby has sores and a rubbed tail from lice and is thin.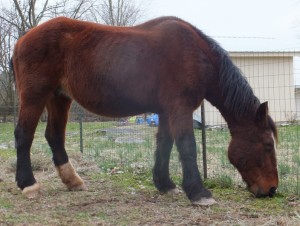 Ruby, after 4 days of TLC, is very comfortable in her new home!
The start of 2013 has been a tough one-two of our oldest residents Maggie & Willie have not been well, battling ulcers, the stress of weather swings, going off feed, and just feeling their age. Then the hard drive crashed in my laptop, but I am back up and running now, albeit behind on my year end paperwork and books. For all of those who donated in 2012, you will be receiving your donation receipts before the end of January! We filed for our 501c3 tax exemption status on 9/1/12 and are waiting on the IRS to get thru their back log to receive our determination letter. All donations of goods and dollars will be eligible for tax exemption back dated to our date of becoming a registered non-profit on 7/20/12!
We continue to receive inquiries of owner surrenders and senior horses in need of our care, but are equipped to only care for a limited number, as much as I would like to say yes to everyone, I simply can not. We are always in need of donations to help us care for our residents-these seniors with special needs are quite costly to care for.
Siegfried has a Birthday coming up! He turns 24 on February 10, 2013! He is a magnificent horse, full of beauty and charisma, but not without his own set of health issues. The ringbone in his front legs is significant and causes him discomfort a lot of the time. He requires soft, stable ground to navigate on-mats and lots of shavings in his feeding and sleeping areas, joint supplements and anti-inflammatory medication. I have created a WISH LIST for Siegfried's Birthday if you care to purchase a gift for him! I will also open the farm for a 2 hour "Meet & Greet Siegfried" on his birthday weekend! If you wish to come see him, bring a donation or a gift! Details will be announced soon.  How many $25 donations can we raise in Siegfried's name by his Birthday!!!?!  I would love to see enough of them to cover his care for one month 🙂
We are accepting 80 donations towards our Rockin' For the Seniors Fundrasier and when we reach that goal, will draw a name to win one of Alan Daigre's Rope Rockers!
We still have our 2013 Calendars available-each month featuring a different horse in our care! Simply donate $25 and specify "Calendar" and we will mail you one!
We will be scaling back the number of natural horse & body care products that we can make and sell. The needs of the sanctuary are too time consuming at the moment to offer the full array of products. Each season, they will change, and announcements will be made when new products become available. Existing customers need not worry, your orders will continue to be filled!
Thank you for your continued support! Cindy Daigre, Executive Director, Ferrell Hollow Farm Senior Horse Sanctuary
Shiloh is our new sanctuary horse that arrived this morning as his owner surrendered him to us to care for. He is a 26 y/o Mustang gelding with a blue eye! He is a sweet horse and deserves all the care and love we can provide for him during his senior years. His left front leg turns inward and the toe is long. He has not had vet or hoof care in quite some time. I will have a fecal test done in a couple of days and our vet and hoof care specialist will see him this week and I will schedule the dentist as he does have some dental issues that need to be addressed. He will remain in the quarantine paddock until we know he does not have any type of contagious infection that could spread to any of the other residents. He has been living alone and not been taken off of the property for many years, so he is more than likely protected from contagious diseases. For now he appears very happy with a grass paddock, as where he was living did not have any. You can help us with his costs by using the Chip In link:
http://ferrellhollowfarm.chipin.com/new-sanctuary-admission-owner-surrender
Francis is a 29 y/o black Percheron who spent most of his working life as a NYC carriage horse.  He's the smallest of our Percherons at 15.3 hands, and weighs 1,500 lbs.  When his carriage career ended, he was placed at Pets Alive, a no kill shelter in NY.  That is where I found him almost 3 years ago!
Francis is a very special needs horse.  He has an old deep digital flexor tendon injury in his right hind leg that has very thick scar tissue.  Therefore it is difficult for him to stretch that tendon and place that foot flat on the ground, so often he uses his tip toe.  This also makes it difficult to trim his opposite hind leg.  However his trimmer and I are able to work around his physical challenges and have improved his feet over the years.
Most recently, he has developed an issue with his right hip, and some days are a challenge for him to get around, while others are not.
Francis also has some vision impairments.  He has cataracts in both eyes, which have gotten worse over time.  He can still see, and is very familiar with his environment, but things such as carrying a bucket towards him, or a hose or cord can cause him to shy.
He also has some dental challenges, at times over producing salvia in his meals, making them a sloppy mess, and will quid hay occasionally.  He loves to have hay pellets placed in his treat toy/tub every day!
Francis's diet is tailored to his specific needs and consists of a small amount of senior feed with a comprehensive joint supplement, flax based vitamins & minerals, probiotics, spirulina and at times prescription anti-inflammatory medication.
Francis is a happy horse, full of personality and life, and super sweet!
If you would like to contribute to the upkeep of Francis, we would appreciate a donation below. Our special needs sanctuary horses cost about $500/month each to care for.
Ferrell Hollow Farm Senior Horse Sanctuary is a registered Non Profit Corporation, filing for 501c3 status, which allows for tax exempt donations.  Our mission is to advocate and care for special needs senior horses over the age of 20 in need of a sanctuary setting, that are not afforded adequate care and would be considered at risk of neglect or abuse, if left in their current situation.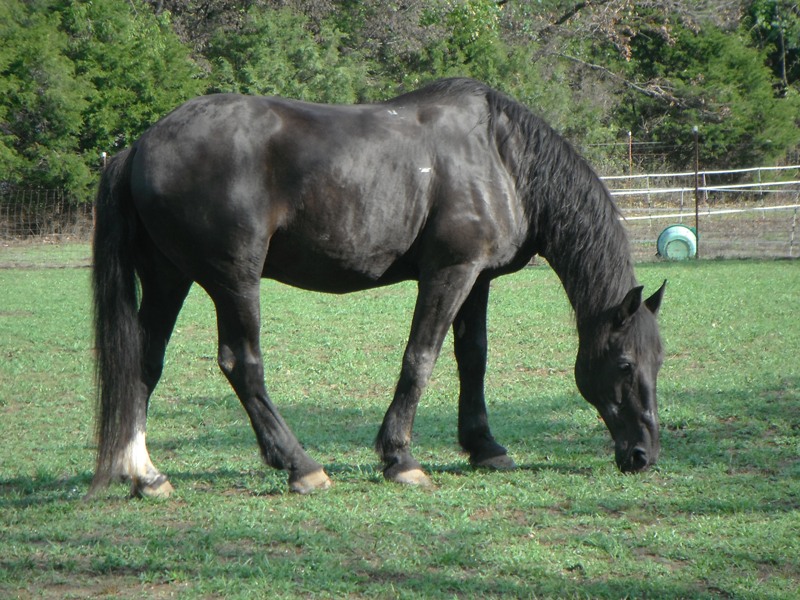 Ferrell Hollow Farm Senior Horse Sanctuary is now a registered Non Profit Corporation with the State of Tennessee!  We are currently filing for 501c3 tax exemption status.  Our mission is to dedicate permanent sanctuary care to senior horses with special needs that do not have resources available to them otherwise.  We are the voice for the underdog.  The special ones with health issues, mobility issues, chronic issues, and no longer sound or serviceable.  To us they have value, and are worthy of putting time, effort, caring and love into.  To give back to them what they have most likely always given to someone else.  We will be here for them until the end.
How can you help us help these sweet souls?
If you shop on-line, choose us as your cause:  
  http://www.iGive.com/FerrellHollowFarmSeniorHorseSanctuary
If you purchase Triple Crown feeds or forages:
    Cut out the Proof of Purchase (POP's) from all feed bags and send them to us so we can redeem them  and save on future feed purchases!
Purchase any of our hand made, all natural horse and body care products:
  http://www.ferrellhollowfarm.net/Store.html
We will be sharing other ways you can help soon!  Of course let us know if you think of ways as well!
Visit our website for more information about us at: www.ferrellhollowfarm.net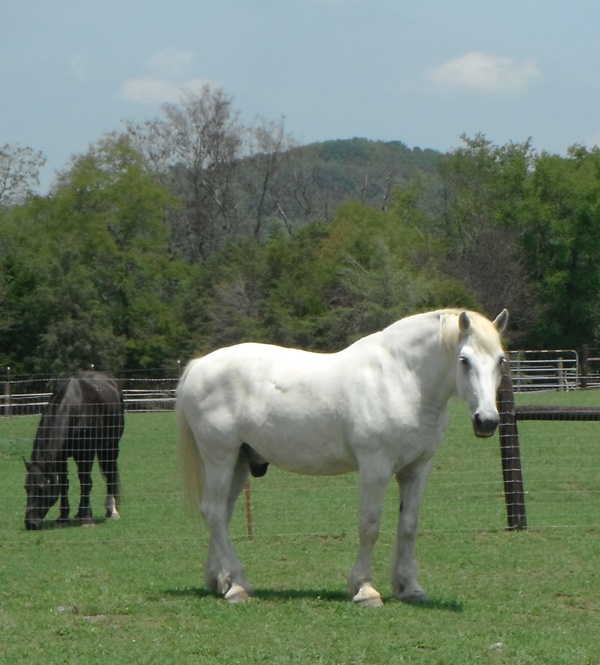 After much thought, research and consideration, we have decided it is our best interest to pursue a Non-Profit charitable status for Ferrell Hollow Farm!  We are very excited about this new direction for our senior horses.  We will still offer retirement boarding for special needs seniors who have an owner willing to support them, as well as offer permanent sanctuary for senior horses who do not have a special person to provide for their care. 
We have filed our Charter with the State of TN, and the rigorous process of completing mountains of paperwork has begun!  As part of this, we fully intend to become a 501c3 charitable organization where we can offer a tax benefit to all who support us in our cause by donating goods, services or money!  Keep us in your thoughts, and both I and the senior horses thank you!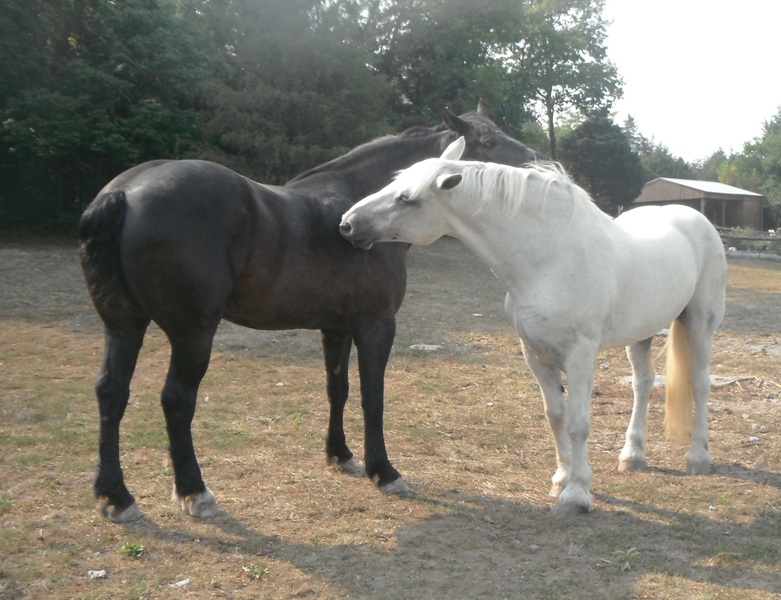 Cindy Daigre
www.ferrellhollowfarm.net