Spring has finally arrived, things are turning green, early flowers are blooming, and the horses are shedding their winter coats!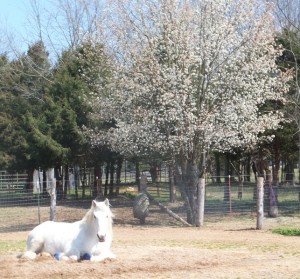 Several of the horses have presented additional challenges the past couple of months.
Eagle's Cushing's Disease was not able to be managed well over the winter, despite our many efforts to do so.  A recent vet visit and blood work confirmed that a significant increase in his medication was needed.  Special thanks to volunteer Paula for giving Eagle his spring body clip!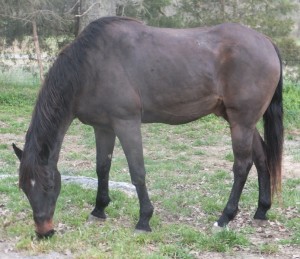 Siegfried, who recently turned 24, has been battling abscesses since early February.  First the left hind foot, then the left front foot, then the right front foot.  All abscesses have occurred in the white line, so picking up his feet is a necessary, however quite challenging, part of his treatment.  Even our vet agreed that there was no time to waste when picking up and working on this big fella's feet!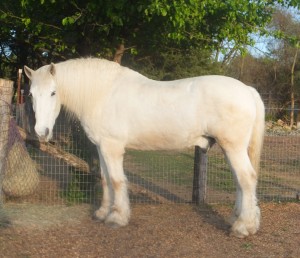 Big Mack has presented with more issues surrounding his arthritic knees and left stifle injury.  We are giving him extra supportive care in attempts to keep him as comfortable as possible.  He also has blown out an abscess in his right front foot!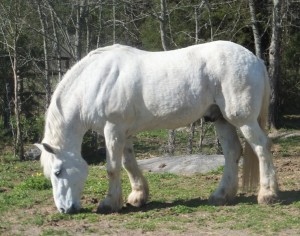 Shiloh has issues with his respiratory condition from Spring thru Fall, and allergies exacerbate his coughing, so he is on supplements to address that condition and help reduce the coughing spells.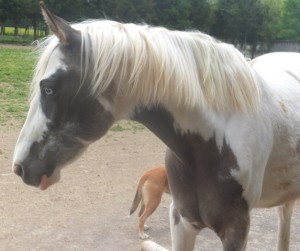 In early March we accepted a new senior into the sanctuary–she is completely blind in both eyes and we named her Ruby.  She is a big draft mare and requires special management for her disability.  She is very sweet and enjoys attention, but has some issues with touching her head ,ears, and the handling of her feet.  She is getting healthier by the day and has made a new best friend in Maggie, one of our eldest horses.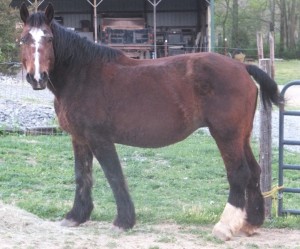 On a positive note, you won't believe your eyes when you see the transformation that Tom has made in the 4 short months he has been here.  Arriving in December in an emaciated state, infested with lice, look at him now!  He is coming out of his shell and looking fantastic!  He is a big boned, elderly Percheron who is quite handsome!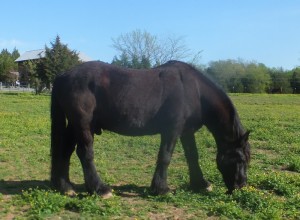 We currently have a long list of Needs!  Our donations are down and our bank balance is meager.  We need your help and there are many ways to do so, even if you don't have money to give!  We keep our WISH LIST current and by clicking the link will see what we are in need of!
In the next week we will need to order more  medication for Eagle, and prescription anti-inflammatory medication we use for several of the horses arthritic conditions.  Our hay supply is low and fingers crossed we make it until the first cuttings are ready!
Just some of our monthly costs to support our Sanctuary Senior Horses:  Hay $1,200, Feed: $800 Trims: $355 Supplements: $1,200 Medications: $200, not to mention supplies such as shavings and topical products (all on our Wish List).
Some of the supplement items we buy from Bulk Foods: MSM, Vitamin C, Tumeric, Garlic.
Our choice of Vitamin/Mineral supplement from Horse Tech: High Point for Grass.
If you have horses, know of folks that do and use any of the Triple Crown feeds, please collect the Proof of Purchase (POP's) from the back of the bag for us.  We are able to redeem them for cash towards our next feed purchase!
If you conduct a bit of on-line shopping, please use iGive.com to support our charity!  Hundreds of merchants donate a percentage of your purchases to charity and issue monthly checks.  Just sign up, and choose Ferrell Hollow Farm Senior Horse Sanctuary as your charity of choice!
We have several on-going Fundraisers that we would love for you to be a part of!
If you are in the area, our next Open House is Saturday May 18th from 10 am to 3 pm.  Come see what we are all about, I don't think you will be disappointed!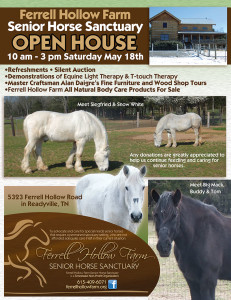 Feel free to share this post to interested friends and family!
Cindy Daigre, Founder
Sunday March 3rd I received a call to help a draft x horse in need of getting out of a bad situation.  Because this was a good friend of mine calling and I knew it was a desperate situation, I agreed even though I did not know anything about the horse.  Once the horse was loaded for transport, I was told it was a mare, she was thin and probably blind with a bad left hind leg.
I got the Quarantine paddock and shed ready for her arrival.  As you can imagine, she was very scared to come off of the trailer and into the paddock.  However once she got a whiff of some yummy orchard grass hay, she relaxed and dove right in!  I named her Ruby.  She is 16 hands tall, weighs a bit over 1,200 lbs and wears a size 82 blanket.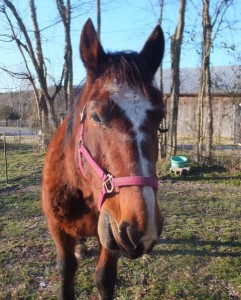 The vet came to check out Ruby today.  She has very little vision in either eye, the right one is cloudy from some sort of an injury.  Her hocks are quite large and there is some soft swelling on the front of the left one.  She came infested with lice, which have been treated.  She has sores all over and her tail has been rubbed off from the intense itching lice cause.  She has had many foals and fortunately she is not in foal now!  She needed a mild float but overall her teeth are in good shape, but do show quite a bit of aging, we estimated her to be at least 25 years old.
I will await her blood test results before making any changes with her, but she will remain in quarantine until the end of March in case she develops any contagious diseases.  She will continue to receive proper care and nutrition and when she is ready will be introduced to a new equine friend!
Ruby is a complete sweetheart!  She uses her nose, feet and sense of smell and hearing to guide her around the paddock to the hay and water.  She is very patient and waits for meals and attention very quietly and is easy to work around.  It will be a challenge to get her feet trimmed with her joint issues, but my vet, who knows me well said, "Cindy put her on some of your herbal mixes, and with your proper nutrition and TLC,  in 30 days she will look like a different horse!" 🙂  Donations towards Ruby's care are much appreciated!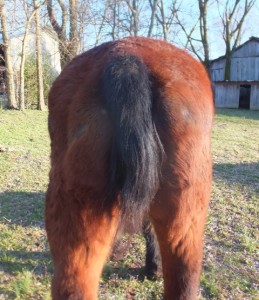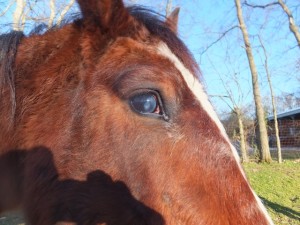 Ruby's injured right eye with limited vision.
Ruby has sores and a rubbed tail from lice and is thin.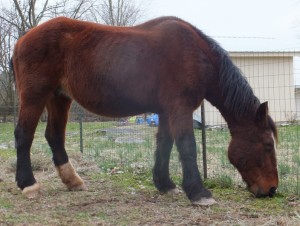 Ruby, after 4 days of TLC, is very comfortable in her new home!
The start of 2013 has been a tough one-two of our oldest residents Maggie & Willie have not been well, battling ulcers, the stress of weather swings, going off feed, and just feeling their age. Then the hard drive crashed in my laptop, but I am back up and running now, albeit behind on my year end paperwork and books. For all of those who donated in 2012, you will be receiving your donation receipts before the end of January! We filed for our 501c3 tax exemption status on 9/1/12 and are waiting on the IRS to get thru their back log to receive our determination letter. All donations of goods and dollars will be eligible for tax exemption back dated to our date of becoming a registered non-profit on 7/20/12!
We continue to receive inquiries of owner surrenders and senior horses in need of our care, but are equipped to only care for a limited number, as much as I would like to say yes to everyone, I simply can not. We are always in need of donations to help us care for our residents-these seniors with special needs are quite costly to care for.
Siegfried has a Birthday coming up! He turns 24 on February 10, 2013! He is a magnificent horse, full of beauty and charisma, but not without his own set of health issues. The ringbone in his front legs is significant and causes him discomfort a lot of the time. He requires soft, stable ground to navigate on-mats and lots of shavings in his feeding and sleeping areas, joint supplements and anti-inflammatory medication. I have created a WISH LIST for Siegfried's Birthday if you care to purchase a gift for him! I will also open the farm for a 2 hour "Meet & Greet Siegfried" on his birthday weekend! If you wish to come see him, bring a donation or a gift! Details will be announced soon.  How many $25 donations can we raise in Siegfried's name by his Birthday!!!?!  I would love to see enough of them to cover his care for one month 🙂
We are accepting 80 donations towards our Rockin' For the Seniors Fundrasier and when we reach that goal, will draw a name to win one of Alan Daigre's Rope Rockers!
We still have our 2013 Calendars available-each month featuring a different horse in our care! Simply donate $25 and specify "Calendar" and we will mail you one!
We will be scaling back the number of natural horse & body care products that we can make and sell. The needs of the sanctuary are too time consuming at the moment to offer the full array of products. Each season, they will change, and announcements will be made when new products become available. Existing customers need not worry, your orders will continue to be filled!
Thank you for your continued support! Cindy Daigre, Executive Director, Ferrell Hollow Farm Senior Horse Sanctuary
The definition of a "special needs horse" may mean different things to different people.  I have made it my life's work to help the ones I consider special needs & senior horses.  They are no longer sound for work, and have a number of issues or disorders that require careful monitoring and individualized care.  Just during my 4 hour morning feeding routine this morning this is what I observed in some our residents:
Willie-age 32, has some unusual swelling in his fetlocks
Maggie-age 31, has a wavy mouth and having more issues with getting down her soaked meals
Big Mack-age 27, has hives on one side of his body
Buddy-age 11, pastern dermatitis sores are open and bloody on all four feet
Siegfried-age 23, has a bounding pulse in the left front foot and is very foot sore
Mary-age 26, is lame in her cankerous foot
Francis-age 29, is lame and sore in his entire right hind leg and foot.
Ferrell Hollow Farm Senior Horse Sanctuary is dedicated to providing individualized care to horses like these that need it.  We are a registered Non Profit Corporation with the State of Tennessee as of 7/20/12.  Visit our website for more information!  If you would like to make a donation, you may mark it as a gift thru paypal at cindy@ferrellhollowfarm.com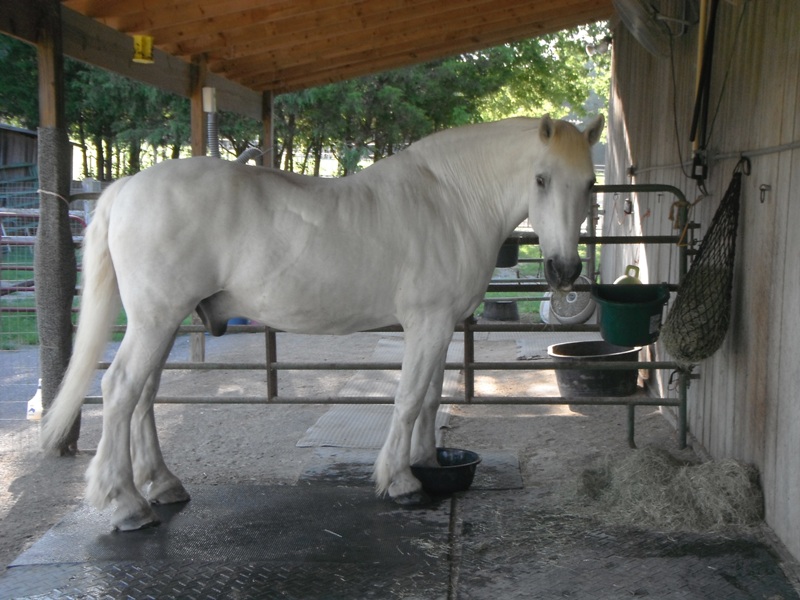 Siegfried having his left front foot soaked this morning!
After much thought, research and consideration, we have decided it is our best interest to pursue a Non-Profit charitable status for Ferrell Hollow Farm!  We are very excited about this new direction for our senior horses.  We will still offer retirement boarding for special needs seniors who have an owner willing to support them, as well as offer permanent sanctuary for senior horses who do not have a special person to provide for their care. 
We have filed our Charter with the State of TN, and the rigorous process of completing mountains of paperwork has begun!  As part of this, we fully intend to become a 501c3 charitable organization where we can offer a tax benefit to all who support us in our cause by donating goods, services or money!  Keep us in your thoughts, and both I and the senior horses thank you!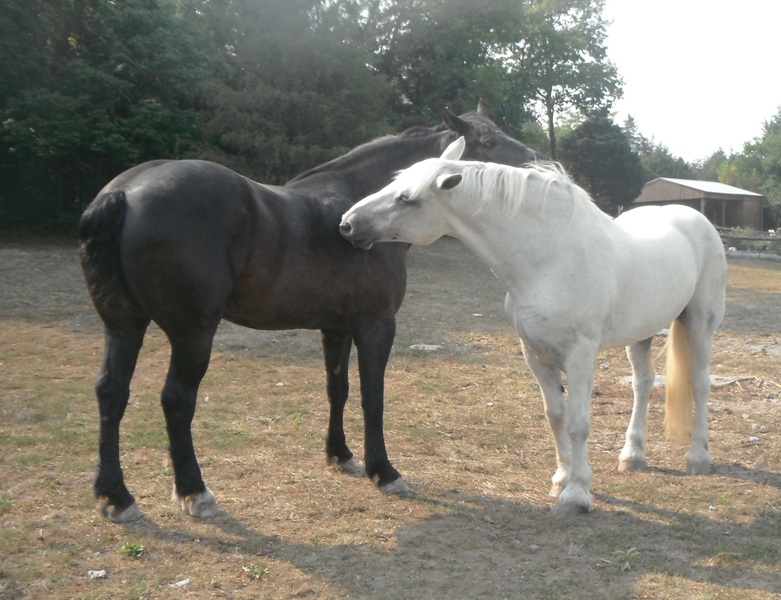 Cindy Daigre
www.ferrellhollowfarm.net
One year ago today a blessing in the form of a huge white horse was bestowed upon me 🙂  Siegfried the jousting horse, came to retire at Ferrell Hollow Farm!  I had taken one look at a photo of him (in his winter woolies and up for adoption) and knew that we were destined to be together. I can't say enough good things about this magnificent horse.  He and I have developed a deep connection and bond from the beginning.  This past year has seen it's challenges with my ACL reconstructive knee surgery and his mysterious health problems.  But today we are both better, stronger and doing well 🙂  He is one of my master teachers and there will be more lessons to come I am sure of it.  Here's to many, many more days of being together big boy!

Siegfried, age 22 in 2011 comes to retire at FHF.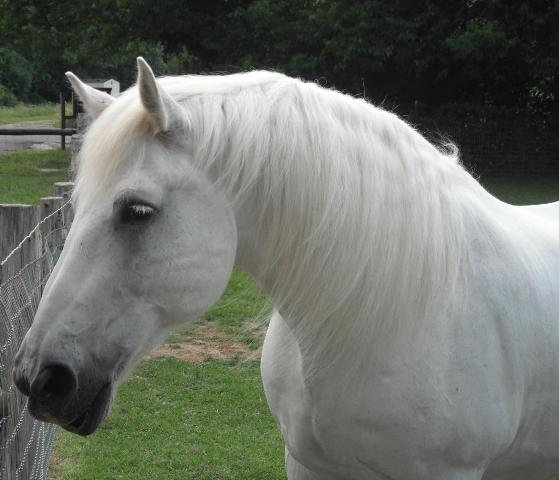 That breathtaking look!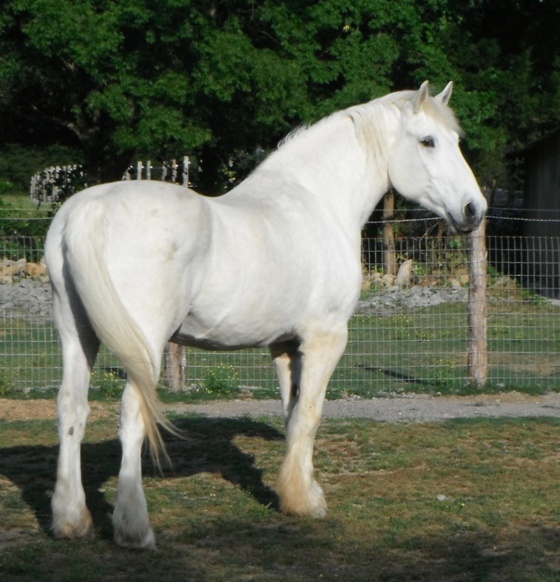 Almost a year later at age 23.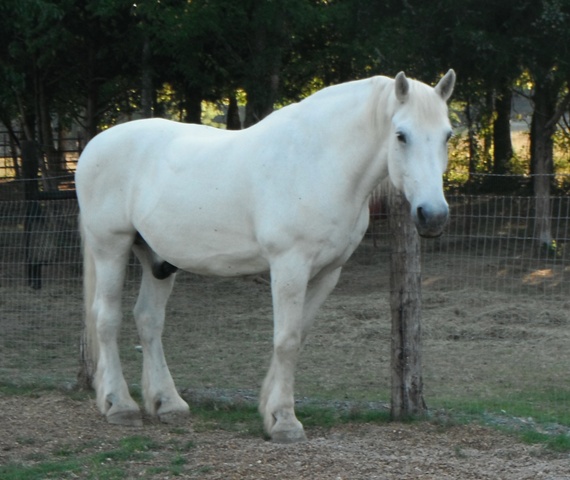 Siegfried June 25, 2012
Cindy Daigre is the founder and director of Ferrell Hollow Farm, an Equine Retirement facility in Middle Tennessee focusing on the unique concerns of Senior and Special Needs horses.
She is continually inspired by the beauty of the gardens she lovingly cares for and regularly creates unique herbal blends based with the plants surrounding her home. As with all of our products, only cruelty-free ingredients are used.
In addition, she provides Equine Nutritional Consultations, has developed a specialized line of Natural Horse & Body Care Products, Herbal Blends and Seed Mixes for Horses, and has written several articles for Natural Horse Magazine.
The proceeds of the sales of all of our products go towards helping the senior horses in our care!
The past month has been a difficult one for Siegfried.  Four weeks ago a red, angry looking lesion the size of a quarter broke out on the front of his left pastern.  Subsequently he became lame.  A vet visit was finally in order when the lesion would not heal and his mobility became poor.  The vet had me treat it as an unspecified pastern dermatitis, start antibiotics and pain relievers.  It seemed to only get worse from there, as all four pastern and legs broke out in strange looking sores and his mobility was not improving.  No one seemed to know exactly what was going on, and how the lesions and the mobility connected?  What did become clear to me was that he (and I) would greatly benefit from a Reiki and Animal Communication session!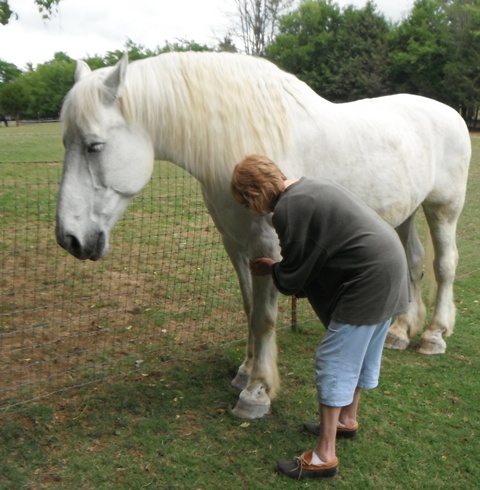 Siegfried begins to relax as soon as the work begins!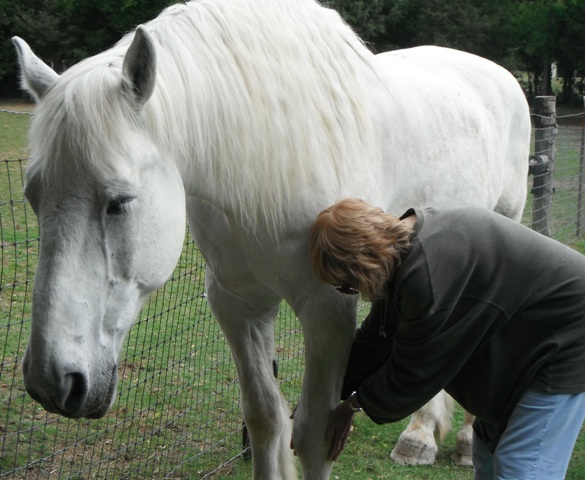 Those beautiful white eyelashes are closing…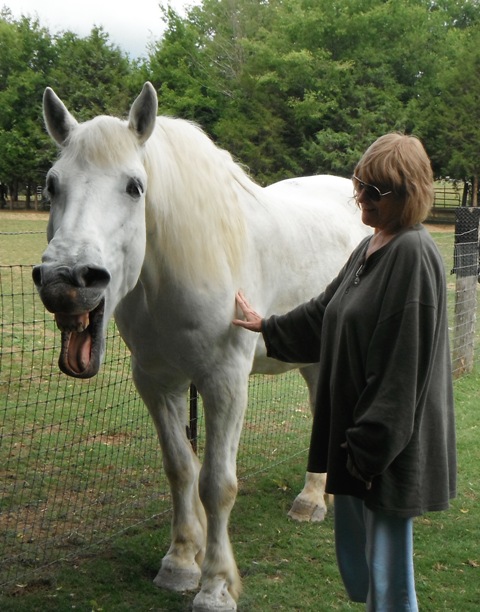 And a wonderful yawn release at the end of the session!
Here is a video clip to show how much Siegfried did benefit from the session http://www.youtube.com/watch?v=DUxB0nwSCXI
Amanda Oliver is a Certified T-touch Practioner, Reiki Master and Animal Communicator located in Middle Tennessee: http://www.holisticanimaltraining.info/
Cindy Daigre is the founder and manager of Ferrell Hollow Farm, a retirement sanctuary for senior and special needs horses in Middle TN: www.ferrellhollowfarm.net
I called my specialist vet, Dr. Wright, of TN Equine Hospital, out to take x-rays of Siegfried, Buddy and Slim today.  The results we found were surprising to both of us!
Siegfried, 23 y/o Percheron, has had a history of chronic laminitis for 20 years, and I thought that is what had been plaguing him lately, despite a strict management for Insulin Resistant horses and some very expensive supplements! X-rays of his front feet show significant high and low ringbone, with his left front foot the worst.  X-rays of his hocks showed only minor arthritis.  While I has thrilled that laminitis is not an issue right now, I was crushed that the ringbone was so signifcant and has caused him so much discomfort as of late 🙁
Slim, 22 y/o Percheron, has been showing signs of significant arthritis since he arrived in late December and has been difficult to trim on his front feet. X-rays of his front feet show severe high and low ringbone, the vet said one of the worst cases he has seen :( 
Buddy, 11 y/o Percheron, I already knew he had a right hind fetlock and hock fracture with severe osteoarthritis, but I wanted x-rays done to see where we stand right now.  He has responded well to the joint supplement I have had him on and has had many more sound days than lame days!  X-rays of his front feet show a chip in the left front fetlock, which was surprising news 🙁
Mary, 26 y/o STB, has severe hoof canker and has been seen by Dr. Wright more than once for it over the past year.  I wanted him to assess where she is now and discussed a possible new topical treatment that might be available to help her.
While having the vet out usually results in a large out of pocket expense, in this case, provided much needed diagnostic tools to not only diagnose the horses issues, but alter how they are managed, in this case with supplementation changes and new anti-inflammatory drugs to get them as comfortable as possible when they are getting their feet trimmed.
Ringbone is bone growth in the pastern or coffin joint of a horse, and in severe cases, the growth can encircle the bones, giving ringbone it's name!  It is not uncommon to see degrees of ringbone in large horses who have had long working careers.  It is often difficult to return a horse with ringbone to soundness and in many it leads to retirement.
One of the most heart-warming sights I get to witness almost every morning, is Buddy laying down resting, with Slim standing over him 🙂

Siegfried, all done with his x-rays!
Cindy Daigre is the owner of Ferrell Hollow Farm, a unique retirement farm for senior and special needs horses in Middle TN.
http://www.ferrellhollowfarm.net
Saturday March 17, 2012
One woman, 10 horses, 8 cats, 2 dogs and 2 goats.  It just took 2.5 hours to care for all of them.  So?  The horses are spread over 6 pasture/paddock locations.  The cats are in 4 different areas.  Every horse receives a bucket meal with necessary supplements, and then enough hay until the evening meal comes around.  Poop is scooped or sprinkled with DE to deter breeding flies.  Nets and buckets are prepared for the next meal.  Everyone is checked over.  Yesterday we had a colicky horse related to ulcers.  This morning that is better. Whew!  A draft has active laminitis.  Another draft comes up lame and is blowing out an abcess.  If you've never worked with drafts, they are quite large and every thing is exaggerated with them.  The mare with hoof canker has a foot that is separating.  The gelding with the stifle injury is not quite as comfortable as he was a week ago.  The 2 Cushing's horses are way too hairy for our unseasonable 80 degree weather.
While this work load may not seem like much to some, realize that I am operating on less than 100%, still rehabbing from ACL reconstructive surgery 9 weeks ago, with continued physical therapy for at least another 2 weeks.
What does the rest of the day hold for this lady?  My house needs to be cleaned.  My farm house also needs to be cleaned-baths, kitchen, appliances, laundry room and windows cleaned before showing to prospective new tenants on Monday.
The laminitic horse needs a watchful eye and increased care, and the abscessed foot also needs more attention.  It is a 7 day a week job with long hours.  A labor of love.
If you would like me to work with you on getting your horse healthy thru a consult, but don't want to pay for it, don't ask.  If you would like me to board your senior, retired, special needs horse for less than my monthly boarding rate, I can't.  If you do however, see the value in these things, please contact me, as I would love to work with you and your horse(s).  This is how I make my living.  This is how I can take in special needs horses that need this level of care and pay for their upkeep myself.  It is not easy work.  It is a true labor of love.  These horses need me and I need them.  They are here to teach me things and I remain open to listening to them.
Please visit my website for more information and support our passion if you can, or share with others–thank you! Cindy Daigre
www.ferrellhollowfarm.net
Francis is my 28 year old black Percheron gelding who I completely adore!  I adopted him a little over 2 years ago from Pets Alive, a no-kill sanctuary in NY.  He worked the streets of NYC as a carriage horse for 12 years and was retired to the sanctuary, but still needed a forever home.  Well thank goodness we found each other, because he is one awesome horse!
Despite his struggles with an old right hind deep digital flexor tendon injury, major scar tissue, ringbone, sidebone, and chronic laminitis, he is what I call a SUPERSTAR!  He is tough and happy and doesn't complain.
I couldn't wait for his trimmer to see him this morning.  You see, 2 months ago he was in so much pain from these chronic issues, I just couldn't seem to bring him back to soundness, despite all of my bag of tricks.  His issues have created a cycle of having good days and bad days, but semingly fairly steady for the past 2 years.  But the Fall is harder on him.  He is pre-cushings and the corisol levels rising can wreak havoc on his metabolic system and he was laminitic despite all I had done for him.  Then I tried giving him a supplement comprised of herbs, anti-oxidants and amino acids.  After one week of a loading dose, Francis was a new man!  His stride improved, his front feet moved fluidly in front of him, AND he was weight bearing on all 4 feet!  Something he has not done in forever!  That right hind tendon keeps him on the tip toe a lot of the time.  So WOW-he is moving like the champion I know he is and bossing Mary around even more than usual and feeling a bit frisky 🙂
So at least for now we are all very happy with his current condition and improvement and thankful every single day I have with him!
Cindy Daigre is the founder and director of Ferrell Hollow Farm, an Equine Retirement facility in Middle Tennessee focusing on the unique concerns of Senior and Special Needs horses.
She is continually inspired by the beauty of the gardens she lovingly cares for and regularly creates unique herbal blends based on the plants surrounding her home. As with all of our products, only cruelty-free ingredients are used.
In addition, she provides Equine Nutritional Consultations, has developed a specialized line of Natural Horse & Body Care Products, Herbal Blends and Seed Mixes for Horses, and has written several articles for Natural Horse Magazine.  www.ferrellhollowfarm.com