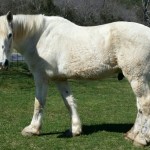 We have had Geronimo for one week and time has flown by.  Here is what we have accomplished this week with him:
He got a bath, he got his feet trimmed, the vet came to x-ray his feet,  and his hind legs were treated for mites!
His biggest issue is his foundered foot-it shows sign of previous abscessing and x-rays revealed severe rotation of the coffin bone as well as sinking.  He is such a trooper for enduring approximately 2 years with his foot like this. The other front foot is actively abscessing and we are working to rid him of the infection.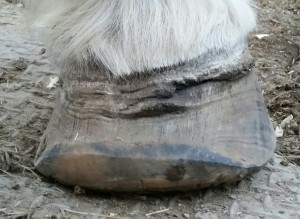 It has been difficult to determine if he has stringhalt in the back legs as his snappy hock action while not all of the time, is still present. The way he has to walk with his front feet very well contributes to the stringhalt like action of the hinds.
He has a big fluffy shavings pit that he likes to lay in several times a day when he needs a break. He receives 3 meals a day and as much Bermuda hay as he will eat.  He also loves Triple Crown's Safe Starch chopped forage for snacks!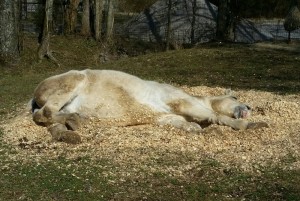 On nice days he is allowed to come out of his paddock to graze in the barnyard for about an hour and this makes him quite happy.  He is always pretty willing to return to his paddock for a snack and then a nap!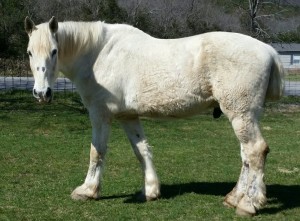 We are working as the weather permits to upgrade & improve our paddocks to be able to move him over next to some other horses. He is fine where he is as he can see them but will likely be even happier with neighbors.
He is a gentle, loving horse who is willing to please. I feel honored to be able to care for him.
Cindy Daigre, Founder
Ferrell Hollow Farm Senior Horse Sanctuary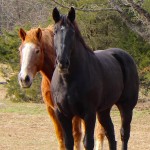 The day before our snow storm I had arranged for our vet and trimmer to be present at the same time so we could take x-rays of Buddy's front feet and determine further treatment options for him.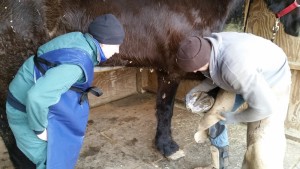 A little history on this gentle giant: Buddy came to us 4 years ago, at the mere age of 11-he had been a carriage horse since he was 3 but he started having significant issues with his joints and despite treatment and rest, he would never be sound to work again.  We offered him a permanent retirement where his needs could be addressed.
The fact that he is 2,500 pounds does not help his compromised joints. He had been diagnosed with severe osteoarthritis in his right hock, as well as having bone chips in 2 different joints.  Our vet said upon reviewing his hock x-rays (taken not long after his arrival), she was surprised he was even standing up as much as he is!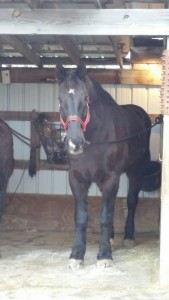 Over the past 2 years he has developed chronic, recurring abscessing in both front feet.  They have compromised his hoof quality as well as his mobility and crippled his quality of life.  Determined to find a solution to help him be more comfortable we decided to give Easy's Slipper a try for him, and hired Brad's Natural Hoof Care for his trim and installation.  While they did help him feel a bit better, there were issues with the glue not holding up on his cracked feet, all the while he continued to abscess. We decided it was best to remove the shoes, soak and wrap the right front foot, which was presenting with the most problems abscessing. That was done for several weeks before the vet came.  A lot of black drainage came out of that foot, it was mostly just rotten at this point. Of course, he continued to be lame, but getting to the root of the infection was going to be important to effectively stop the cycle of pain-lameness-abscess.
We were concerned about infection penetrating the coffin bone, or worse yet a fracture in the coffin bone. The results of the x-rays were not really surprising, but they did give us more information on further treatment. He does have a fairly significant amount of coffin bone reabsorption, a trapped abscess pocket and likely infection in the coffin bone. He was trimmed according to the x-rays, removing a lot of the decaying toe material and leaving access to packing and hopefully draining out the rest of the infection.
He will need to go on antibiotic medication for at least a month, probably more. A big horse requires a big dose twice a day! Both feet need to be soaked, packed and wrapped for a period of time to draw out the infection.  Is it a sure thing that with antibiotics and the hoof treatment we will beat the infection? No, it isn't. But as our trimmer Brad said to me, "We won't let him go down without a fight!"
As difficult and emotional as this has been for me, having a support system such as our vet and trimmer on board with his treatment plan, sure makes it feel like I am not alone in this fight!
Buddy is our January Horse of the Month. If you would like to help support Buddy by being a monthly sponsor, giving a one time donation towards his care, or purchasing an item off of his Wish List, we would sure appreciate it!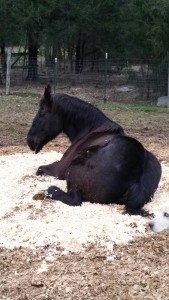 Cindy Daigre, Founder
Ferrell Hollow Farm Senior Horse Sanctuary
Like our Facebook page and stay up to date on what is happening at the sanctuary!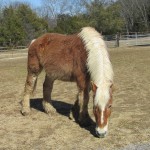 Jackson is a 25 year old Belgian draft horse that we know little about except he was used for harness work and needed a forever home with lots of TLC!  He is a nice guy and it's all about the food for him!  He requires soaked meals and fine, soft hay.  He needs lots of grooming, a customized diet plan, and hoof care needs addressed.  He is extremely itchy, so much so, he has numerous sores all over, especially in between the hind legs and uses whatever tree he can find to rub on!  We need to purchase him a draft halter, start him on a supplementation plan to address his issues and goodness gracious all of the soaked meals he will require!
Please consider a donation to our sanctuary to help with not only Jackson's expenses, but the others in our care.  All contributions are tax deductible as allowed by the IRS as we are a 501c3 non-profit charity.
Enjoy these photos from Jackson's first day!
Spring has finally arrived, things are turning green, early flowers are blooming, and the horses are shedding their winter coats!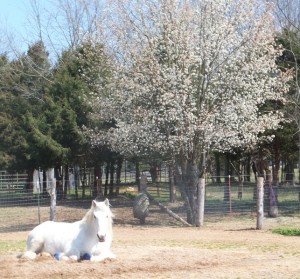 Several of the horses have presented additional challenges the past couple of months.
Eagle's Cushing's Disease was not able to be managed well over the winter, despite our many efforts to do so.  A recent vet visit and blood work confirmed that a significant increase in his medication was needed.  Special thanks to volunteer Paula for giving Eagle his spring body clip!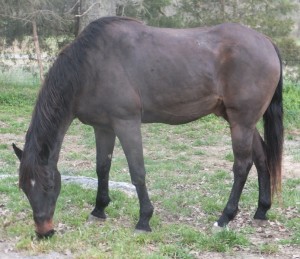 Siegfried, who recently turned 24, has been battling abscesses since early February.  First the left hind foot, then the left front foot, then the right front foot.  All abscesses have occurred in the white line, so picking up his feet is a necessary, however quite challenging, part of his treatment.  Even our vet agreed that there was no time to waste when picking up and working on this big fella's feet!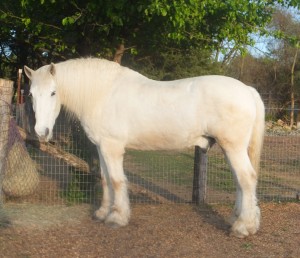 Big Mack has presented with more issues surrounding his arthritic knees and left stifle injury.  We are giving him extra supportive care in attempts to keep him as comfortable as possible.  He also has blown out an abscess in his right front foot!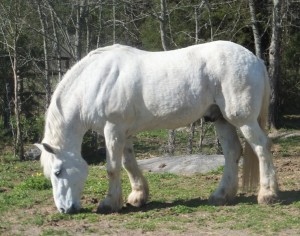 Shiloh has issues with his respiratory condition from Spring thru Fall, and allergies exacerbate his coughing, so he is on supplements to address that condition and help reduce the coughing spells.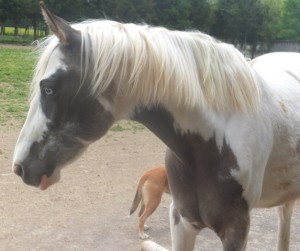 In early March we accepted a new senior into the sanctuary–she is completely blind in both eyes and we named her Ruby.  She is a big draft mare and requires special management for her disability.  She is very sweet and enjoys attention, but has some issues with touching her head ,ears, and the handling of her feet.  She is getting healthier by the day and has made a new best friend in Maggie, one of our eldest horses.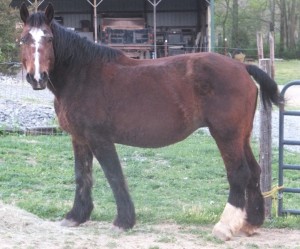 On a positive note, you won't believe your eyes when you see the transformation that Tom has made in the 4 short months he has been here.  Arriving in December in an emaciated state, infested with lice, look at him now!  He is coming out of his shell and looking fantastic!  He is a big boned, elderly Percheron who is quite handsome!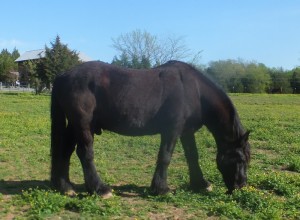 We currently have a long list of Needs!  Our donations are down and our bank balance is meager.  We need your help and there are many ways to do so, even if you don't have money to give!  We keep our WISH LIST current and by clicking the link will see what we are in need of!
In the next week we will need to order more  medication for Eagle, and prescription anti-inflammatory medication we use for several of the horses arthritic conditions.  Our hay supply is low and fingers crossed we make it until the first cuttings are ready!
Just some of our monthly costs to support our Sanctuary Senior Horses:  Hay $1,200, Feed: $800 Trims: $355 Supplements: $1,200 Medications: $200, not to mention supplies such as shavings and topical products (all on our Wish List).
Some of the supplement items we buy from Bulk Foods: MSM, Vitamin C, Tumeric, Garlic.
Our choice of Vitamin/Mineral supplement from Horse Tech: High Point for Grass.
If you have horses, know of folks that do and use any of the Triple Crown feeds, please collect the Proof of Purchase (POP's) from the back of the bag for us.  We are able to redeem them for cash towards our next feed purchase!
If you conduct a bit of on-line shopping, please use iGive.com to support our charity!  Hundreds of merchants donate a percentage of your purchases to charity and issue monthly checks.  Just sign up, and choose Ferrell Hollow Farm Senior Horse Sanctuary as your charity of choice!
We have several on-going Fundraisers that we would love for you to be a part of!
If you are in the area, our next Open House is Saturday May 18th from 10 am to 3 pm.  Come see what we are all about, I don't think you will be disappointed!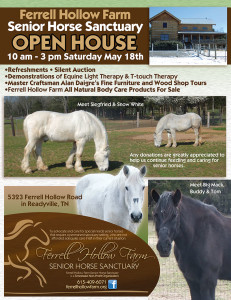 Feel free to share this post to interested friends and family!
Cindy Daigre, Founder
Siegfried turns 24 years old February 10, 2013!  While many of our sanctuary horses we do not know much about their past, let alone their birthday, we do know a bit about Siegfried.  He spent his working career as a jousting horse in New York.  Quite noble and bomb-proof, I imagine he was a wonderful mount for the sport!  He is an 18 hand, 2,200 lb Percheron Draft horse, born black, has turned pure white as he has aged.
Read more about Siegfried's Bio.
We will be honoring Siegfried's birthday by opening the part of the farm which he resides for a short "Meet & Greet" on Saturday February 9th from Noon to 2:00 pm.  You will be able to visit with he and his lady friend Snow White, and quite possibly catch a glimpse of the other horses who reside here.  Please note that the entire farm will not be open for tours on this date.  However, mark your calendars for Saturday May 18th, as we will have the entire Sanctuary open for visitors!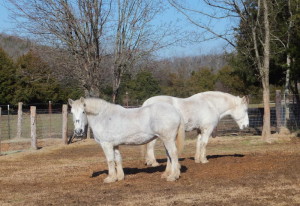 Siegfried does have a Wish List for his Birthday!  A few of the items have already been purchased for him -the Fly Sheet has been ordered and Nicker Treats have arrived!  We do love the Equi-Spa products for him as he loves bathes in the warmer weather!   We can always use bagged Pine shavings to keep his shelter/stall and sleeping areas dry and fluffy!  Any and all Donations are greatly appreciated!
Siegfried's Diet: In case you were wondering just what does it take to keep this handsome beast so good-looking, here is what he receives each day!
50 lbs Bermuda Grass hay
1 lb Alfalfa Hay
4 cups Ration Balancer pellets (Triple Crown Lite)
Stabilized Flax Meal
Kauffman's Equine Gold (Pre/Probiotic)
High Point Vitamin/Minerals
Smart Flex IV Ultimate Joint Supplement
Vitamin C
Devil's Claw (for pain & inflammation of his Ringbone)
On occasion, he requires also Firocoxib prescription anti-inflammatory medication for the Ringbone
Nicker Treats, and lots of love and attention!
As you can imagine, it is quite costly to care for him, and we would appreciate any Donations you could manage to help us continue giving him the best in his senior years!
Today we had to lay to rest our oldest and longest term resident Willie.  He was 32 years old and had been with us for 8 years!  Willie came to us from New York all those years ago when his arthritis was getting worse and the winters in NY were not kind.  He thrived here, having four seasons to enjoy, full turnout, being able to come and go as he pleased, using a run in shelter for his feeding and loafing needs.  He has had a loving owner for many, many years who never denied him anything he needed, including all these years of retirement.  He truly lived the high life for quite some time!
Things will definitely not be the same here without him, as he was always a constant, as horses have come in and passed on, Willie was always here.  His faithful companion, Maggie will miss him the most, as she has been his devoted follower for several years.  Run free my friend, in the green pastures where your troubles are behind you.  We will certainly miss you!!!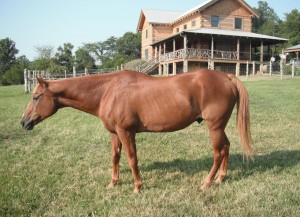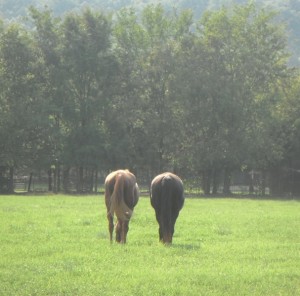 Please take a few moments to pay tribute by viewing the Slideshow of Willie and his friends.
The start of 2013 has been a tough one-two of our oldest residents Maggie & Willie have not been well, battling ulcers, the stress of weather swings, going off feed, and just feeling their age. Then the hard drive crashed in my laptop, but I am back up and running now, albeit behind on my year end paperwork and books. For all of those who donated in 2012, you will be receiving your donation receipts before the end of January! We filed for our 501c3 tax exemption status on 9/1/12 and are waiting on the IRS to get thru their back log to receive our determination letter. All donations of goods and dollars will be eligible for tax exemption back dated to our date of becoming a registered non-profit on 7/20/12!
We continue to receive inquiries of owner surrenders and senior horses in need of our care, but are equipped to only care for a limited number, as much as I would like to say yes to everyone, I simply can not. We are always in need of donations to help us care for our residents-these seniors with special needs are quite costly to care for.
Siegfried has a Birthday coming up! He turns 24 on February 10, 2013! He is a magnificent horse, full of beauty and charisma, but not without his own set of health issues. The ringbone in his front legs is significant and causes him discomfort a lot of the time. He requires soft, stable ground to navigate on-mats and lots of shavings in his feeding and sleeping areas, joint supplements and anti-inflammatory medication. I have created a WISH LIST for Siegfried's Birthday if you care to purchase a gift for him! I will also open the farm for a 2 hour "Meet & Greet Siegfried" on his birthday weekend! If you wish to come see him, bring a donation or a gift! Details will be announced soon.  How many $25 donations can we raise in Siegfried's name by his Birthday!!!?!  I would love to see enough of them to cover his care for one month 🙂
We are accepting 80 donations towards our Rockin' For the Seniors Fundrasier and when we reach that goal, will draw a name to win one of Alan Daigre's Rope Rockers!
We still have our 2013 Calendars available-each month featuring a different horse in our care! Simply donate $25 and specify "Calendar" and we will mail you one!
We will be scaling back the number of natural horse & body care products that we can make and sell. The needs of the sanctuary are too time consuming at the moment to offer the full array of products. Each season, they will change, and announcements will be made when new products become available. Existing customers need not worry, your orders will continue to be filled!
Thank you for your continued support! Cindy Daigre, Executive Director, Ferrell Hollow Farm Senior Horse Sanctuary
I can hardly believe that I am writing this. Francis has been in my heart for so long, I don't remember life with out him around. He was a grand carriage horse, working in NYC for most of his life and I was so blessed to be able to care for him in his senior years. He was spoiled and he knew I would (and did) anything for him. He was always one of our more special needs horses, with feet and leg issues from years past.
Four months ago he started a downward spiral and we just could not get him well, despite our most valiant efforts. He was already so compromised, it was incredibly challenging to work on his back feet. There in lies the problem-I had my vet out this morning to take x-rays of his right hind foot, and my suspicions were confirmed. He had deep seated white line disease and rotation and infection in the coffin bone, which was very painful. His left hind leg had dropped due to bearing more weight than it should, and the suspensory ligament was damaged, resulting in that foot also breaking down. So we had to say good-bye and release him from the pain 🙁
Francis had a wonderful retirement at Ferrell Hollow Farm, he was such a sweet, special boy. Mary, Siegfried and I will miss you terribly, and already do.
If you would like to contribute to Francis's final expenses, please use the Donate button on the website. http://www.ferrellhollowfarm.org/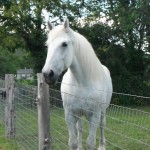 Siegfried is a 23 year old white Percheron draft gelding who stands 18 hands tall and weighs 2,200 lbs. He is quite handsome with his long flowing mane and tail and snow white coat. He is very laid back, taking everything in stride, and there is not much that rattles him. That disposition was ideal for his past life as a jousting horse. He spent from age 3 until his retirement in New York with a Medieval Jousting company and was used for theatrical performances. When it was time to retire him from this work, he was taken in at a nearby rescue that spent over a year trying to rehab him from lameness and laminitis, which he has a history of. From there he was adopted as a "hubby horse" for trail riding, and that situation did not work out so he was up for adoption again. That's when I found him!
I agreed that he would have a forever home with all of his needs met at our retirement farm and sanctuary, Ferrell Hollow Farm, in TN. I hired an amazing transporter and he was hauled from Long Island, NY to our farm in rural Middle TN. The moment he stepped off of the trailer, I was awestruck by his magnificence -he was breathtaking and stunning! He lead right into his paddock and settled in immediately. He had finally come HOME 🙂 That was June of 2011.
Since his arrival Siegfried has presented with several health challenges-unexplained lameness and odd pastern dermatitis lesions-all of which had vets scratching their heads after diagnostic testing proved inconclusive. What we did discover thru radio-graphs is that he has significant ring-bone (arthritis in the pasterns) in his front legs, which will always need to be managed by a good joint supplement and at times anti-inflammatory medication.
Right now, as this is written, he is doing amazingly well, better than I have seen him. I have worked with Dr. Juliet Getty, Equine Nutritionist, www.gettynutrition.com to fine tune his supplements and he is absolutely glowing and feeling great!
A few fun facts about Siegfried's upkeep: Draft horses eat A LOT of hay! Siegfried is on limited grass due to his history of laminitis, so he eats an average of a bale of bermuda grass hay a day-a bit more in the winter. Here are his costs per month:
$200 Hay
$50 Ration Balance Feed
$150 Supplements
$75 Anti-Inflammatory medication when needed
Tons of love and labor: Priceless 😉
Siegfried has become our ambassador, the one who represents our farm, with his grace, beauty and lovely disposition he shows us that we can age with dignity if given the chance to do so.
Please consider contributing a donation or sponsorship to help with Siegfried's upkeep and care–you will find Donate buttons on our website www.ferrellhollowfarm.org
Shiloh is our new sanctuary horse that arrived this morning as his owner surrendered him to us to care for. He is a 26 y/o Mustang gelding with a blue eye! He is a sweet horse and deserves all the care and love we can provide for him during his senior years. His left front leg turns inward and the toe is long. He has not had vet or hoof care in quite some time. I will have a fecal test done in a couple of days and our vet and hoof care specialist will see him this week and I will schedule the dentist as he does have some dental issues that need to be addressed. He will remain in the quarantine paddock until we know he does not have any type of contagious infection that could spread to any of the other residents. He has been living alone and not been taken off of the property for many years, so he is more than likely protected from contagious diseases. For now he appears very happy with a grass paddock, as where he was living did not have any. You can help us with his costs by using the Chip In link:
http://ferrellhollowfarm.chipin.com/new-sanctuary-admission-owner-surrender