Spring has finally arrived, things are turning green, early flowers are blooming, and the horses are shedding their winter coats!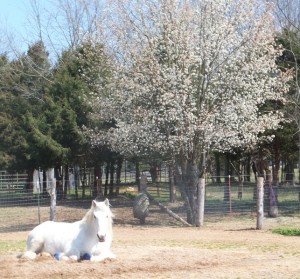 Several of the horses have presented additional challenges the past couple of months.
Eagle's Cushing's Disease was not able to be managed well over the winter, despite our many efforts to do so.  A recent vet visit and blood work confirmed that a significant increase in his medication was needed.  Special thanks to volunteer Paula for giving Eagle his spring body clip!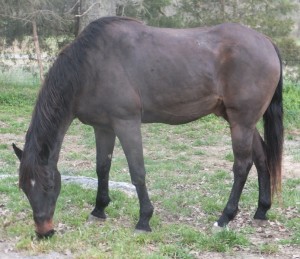 Siegfried, who recently turned 24, has been battling abscesses since early February.  First the left hind foot, then the left front foot, then the right front foot.  All abscesses have occurred in the white line, so picking up his feet is a necessary, however quite challenging, part of his treatment.  Even our vet agreed that there was no time to waste when picking up and working on this big fella's feet!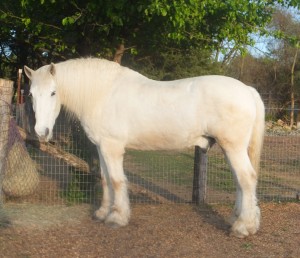 Big Mack has presented with more issues surrounding his arthritic knees and left stifle injury.  We are giving him extra supportive care in attempts to keep him as comfortable as possible.  He also has blown out an abscess in his right front foot!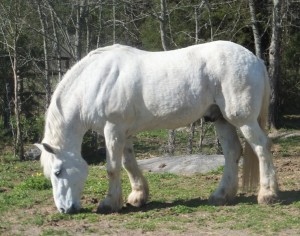 Shiloh has issues with his respiratory condition from Spring thru Fall, and allergies exacerbate his coughing, so he is on supplements to address that condition and help reduce the coughing spells.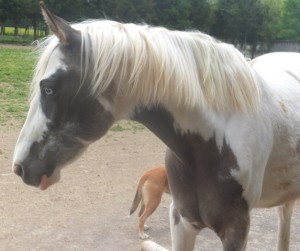 In early March we accepted a new senior into the sanctuary–she is completely blind in both eyes and we named her Ruby.  She is a big draft mare and requires special management for her disability.  She is very sweet and enjoys attention, but has some issues with touching her head ,ears, and the handling of her feet.  She is getting healthier by the day and has made a new best friend in Maggie, one of our eldest horses.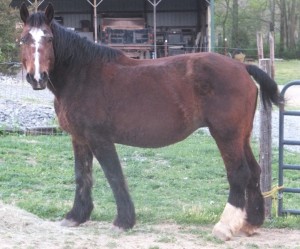 On a positive note, you won't believe your eyes when you see the transformation that Tom has made in the 4 short months he has been here.  Arriving in December in an emaciated state, infested with lice, look at him now!  He is coming out of his shell and looking fantastic!  He is a big boned, elderly Percheron who is quite handsome!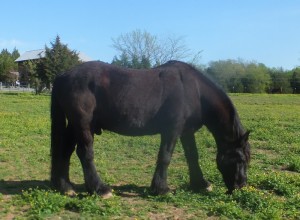 We currently have a long list of Needs!  Our donations are down and our bank balance is meager.  We need your help and there are many ways to do so, even if you don't have money to give!  We keep our WISH LIST current and by clicking the link will see what we are in need of!
In the next week we will need to order more  medication for Eagle, and prescription anti-inflammatory medication we use for several of the horses arthritic conditions.  Our hay supply is low and fingers crossed we make it until the first cuttings are ready!
Just some of our monthly costs to support our Sanctuary Senior Horses:  Hay $1,200, Feed: $800 Trims: $355 Supplements: $1,200 Medications: $200, not to mention supplies such as shavings and topical products (all on our Wish List).
Some of the supplement items we buy from Bulk Foods: MSM, Vitamin C, Tumeric, Garlic.
Our choice of Vitamin/Mineral supplement from Horse Tech: High Point for Grass.
If you have horses, know of folks that do and use any of the Triple Crown feeds, please collect the Proof of Purchase (POP's) from the back of the bag for us.  We are able to redeem them for cash towards our next feed purchase!
If you conduct a bit of on-line shopping, please use iGive.com to support our charity!  Hundreds of merchants donate a percentage of your purchases to charity and issue monthly checks.  Just sign up, and choose Ferrell Hollow Farm Senior Horse Sanctuary as your charity of choice!
We have several on-going Fundraisers that we would love for you to be a part of!
If you are in the area, our next Open House is Saturday May 18th from 10 am to 3 pm.  Come see what we are all about, I don't think you will be disappointed!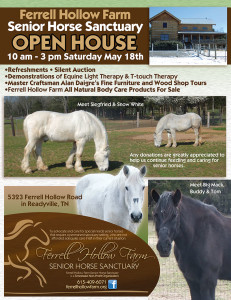 Feel free to share this post to interested friends and family!
Cindy Daigre, Founder
Relatively mild winter weather, above average temperatures and lack of rainfall this spring are all expected to create a worse than normal fly season in our area.  Ferrell Hollow Farm has implemented many natural methods of fly control over the years and continues to research and try new things to keep our senior retirees comfortable.
Diatomaceous Earth: This is a fine white powder that can be sprinkled on manure piles to decrease the breeding fly population.
Apple Cider Vinegar: Use only the organic, raw vinegar with the "mother".  This can be poured over the feed meals or in the water buckets or troughs at a rate of 1 cup per day, introducing the flavor slowly.
Vitamin B1: Thiamin has been thought to be a natural insect repellent.  We are feeding 1,000 mg a day to all of the horses.
Fly Spray: We use natural fly sprays made with high quality essential oils, sprayed at least once a day.
Fly Gear: Fly masks, fly boots, and fly sheets can be quite helpful in keeping the horses comfortable during the day.  I find the soft breathable mesh material and belly bands to be the most comfortable for the horses.

Willie, age 32, and Maggie, age 31, outfitted with fly gear for the day!
Fly Traps: The only effective control I've found against biting horseflies are traps such as the Epps Biting Fly Trap and we have made several varieties of our own versions to keep it more economical.  One trap in each horse pasture has been necessary.

Epps Biting Fly Trap in front of Buddy and Slim's run in shelter.
Fans: All of our pastures have large run in shelters with electricity so that we can run fans to keep the air circulating during the heat.
Shade Screens: Hanging shade screens in each run in shelter cuts down on the sun streaming in the sheds, which not only deters insects, but keeps the horses more comfortable during the heat of the day.

Siegfried enjoys his large run in space outfitted with fans and a large shade screen!
Cindy Daigre is the founder and director of Ferrell Hollow Farm, an Equine Retirement facility in Middle Tennessee focusing on the unique concerns of Senior and Special Needs horses.
She provides Equine Nutritional Consultations, has developed a specialized line of Natural Horse & Body Care Products, Herbal Blends and Seed Mixes for Horses, and has written several articles for Natural Horse Magazine.
www.ferrellhollowfarm.net