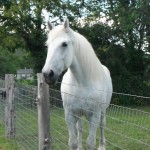 Siegfried is a 23 year old white Percheron draft gelding who stands 18 hands tall and weighs 2,200 lbs. He is quite handsome with his long flowing mane and tail and snow white coat. He is very laid back, taking everything in stride, and there is not much that rattles him. That disposition was ideal for his past life as a jousting horse. He spent from age 3 until his retirement in New York with a Medieval Jousting company and was used for theatrical performances. When it was time to retire him from this work, he was taken in at a nearby rescue that spent over a year trying to rehab him from lameness and laminitis, which he has a history of. From there he was adopted as a "hubby horse" for trail riding, and that situation did not work out so he was up for adoption again. That's when I found him!
I agreed that he would have a forever home with all of his needs met at our retirement farm and sanctuary, Ferrell Hollow Farm, in TN. I hired an amazing transporter and he was hauled from Long Island, NY to our farm in rural Middle TN. The moment he stepped off of the trailer, I was awestruck by his magnificence -he was breathtaking and stunning! He lead right into his paddock and settled in immediately. He had finally come HOME 🙂 That was June of 2011.
Since his arrival Siegfried has presented with several health challenges-unexplained lameness and odd pastern dermatitis lesions-all of which had vets scratching their heads after diagnostic testing proved inconclusive. What we did discover thru radio-graphs is that he has significant ring-bone (arthritis in the pasterns) in his front legs, which will always need to be managed by a good joint supplement and at times anti-inflammatory medication.
Right now, as this is written, he is doing amazingly well, better than I have seen him. I have worked with Dr. Juliet Getty, Equine Nutritionist, www.gettynutrition.com to fine tune his supplements and he is absolutely glowing and feeling great!
A few fun facts about Siegfried's upkeep: Draft horses eat A LOT of hay! Siegfried is on limited grass due to his history of laminitis, so he eats an average of a bale of bermuda grass hay a day-a bit more in the winter. Here are his costs per month:
$200 Hay
$50 Ration Balance Feed
$150 Supplements
$75 Anti-Inflammatory medication when needed
Tons of love and labor: Priceless 😉
Siegfried has become our ambassador, the one who represents our farm, with his grace, beauty and lovely disposition he shows us that we can age with dignity if given the chance to do so.
Please consider contributing a donation or sponsorship to help with Siegfried's upkeep and care–you will find Donate buttons on our website www.ferrellhollowfarm.org
Shiloh is our new sanctuary horse that arrived this morning as his owner surrendered him to us to care for. He is a 26 y/o Mustang gelding with a blue eye! He is a sweet horse and deserves all the care and love we can provide for him during his senior years. His left front leg turns inward and the toe is long. He has not had vet or hoof care in quite some time. I will have a fecal test done in a couple of days and our vet and hoof care specialist will see him this week and I will schedule the dentist as he does have some dental issues that need to be addressed. He will remain in the quarantine paddock until we know he does not have any type of contagious infection that could spread to any of the other residents. He has been living alone and not been taken off of the property for many years, so he is more than likely protected from contagious diseases. For now he appears very happy with a grass paddock, as where he was living did not have any. You can help us with his costs by using the Chip In link:
http://ferrellhollowfarm.chipin.com/new-sanctuary-admission-owner-surrender
I have been planning this change for quite some time now.  Yesterday was Day 1 of the change.  I moved Francis & Mary from the pasture that has been theirs for the past 3 years, to an adjacent paddock right next to Siegfried.   It was a bittersweet day for me, knowing they may never be able to return to this much freedom.  A couple of months ago Francis injured his right hip, it is unknown how or exactly what the issue is, but my vet has examined him twice and we are following the recommended protocol, but he is not getting better.  He is over weighting the left hind foot, and before too long, it will break down, and so will he.  So I felt it necessary to install an electric hoist in a stall in the barn, as I already had a sling.
Today was Day 2 of the process.  I brought Francis & Mary into stalls in the main barn.  Siegfried was calling for them, not understanding where they went and did not like being left alone.  So I brought him in as well.  I set a dangerous precedent as both he and Mary loved being inside!  Mary started to take a nap, while Siegfried was content to munch on his hay.  Francis took a bit longer to settle down, as change is hard for this old guy!
This will be a new routine for all of them, since Francis's needs have increased and he will be put in the sling to raise him off of the ground, in attempts to relieve pressure from both of his hind legs and give him some much needed rest!
Ferrell Hollow Farm is a Non Profit Senior Horse Sanctuary located in TN.  www.ferrellhollowfarm.org