Siegfried turns 24 years old February 10, 2013!  While many of our sanctuary horses we do not know much about their past, let alone their birthday, we do know a bit about Siegfried.  He spent his working career as a jousting horse in New York.  Quite noble and bomb-proof, I imagine he was a wonderful mount for the sport!  He is an 18 hand, 2,200 lb Percheron Draft horse, born black, has turned pure white as he has aged.
Read more about Siegfried's Bio.
We will be honoring Siegfried's birthday by opening the part of the farm which he resides for a short "Meet & Greet" on Saturday February 9th from Noon to 2:00 pm.  You will be able to visit with he and his lady friend Snow White, and quite possibly catch a glimpse of the other horses who reside here.  Please note that the entire farm will not be open for tours on this date.  However, mark your calendars for Saturday May 18th, as we will have the entire Sanctuary open for visitors!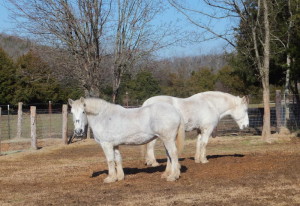 Siegfried does have a Wish List for his Birthday!  A few of the items have already been purchased for him -the Fly Sheet has been ordered and Nicker Treats have arrived!  We do love the Equi-Spa products for him as he loves bathes in the warmer weather!   We can always use bagged Pine shavings to keep his shelter/stall and sleeping areas dry and fluffy!  Any and all Donations are greatly appreciated!
Siegfried's Diet: In case you were wondering just what does it take to keep this handsome beast so good-looking, here is what he receives each day!
50 lbs Bermuda Grass hay
1 lb Alfalfa Hay
4 cups Ration Balancer pellets (Triple Crown Lite)
Stabilized Flax Meal
Kauffman's Equine Gold (Pre/Probiotic)
High Point Vitamin/Minerals
Smart Flex IV Ultimate Joint Supplement
Vitamin C
Devil's Claw (for pain & inflammation of his Ringbone)
On occasion, he requires also Firocoxib prescription anti-inflammatory medication for the Ringbone
Nicker Treats, and lots of love and attention!
As you can imagine, it is quite costly to care for him, and we would appreciate any Donations you could manage to help us continue giving him the best in his senior years!
Today we had to lay to rest our oldest and longest term resident Willie.  He was 32 years old and had been with us for 8 years!  Willie came to us from New York all those years ago when his arthritis was getting worse and the winters in NY were not kind.  He thrived here, having four seasons to enjoy, full turnout, being able to come and go as he pleased, using a run in shelter for his feeding and loafing needs.  He has had a loving owner for many, many years who never denied him anything he needed, including all these years of retirement.  He truly lived the high life for quite some time!
Things will definitely not be the same here without him, as he was always a constant, as horses have come in and passed on, Willie was always here.  His faithful companion, Maggie will miss him the most, as she has been his devoted follower for several years.  Run free my friend, in the green pastures where your troubles are behind you.  We will certainly miss you!!!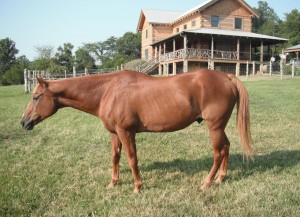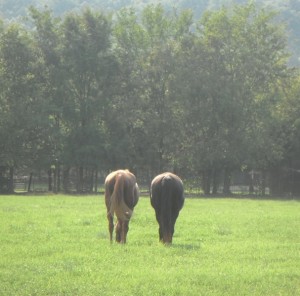 Please take a few moments to pay tribute by viewing the Slideshow of Willie and his friends.
The start of 2013 has been a tough one-two of our oldest residents Maggie & Willie have not been well, battling ulcers, the stress of weather swings, going off feed, and just feeling their age. Then the hard drive crashed in my laptop, but I am back up and running now, albeit behind on my year end paperwork and books. For all of those who donated in 2012, you will be receiving your donation receipts before the end of January! We filed for our 501c3 tax exemption status on 9/1/12 and are waiting on the IRS to get thru their back log to receive our determination letter. All donations of goods and dollars will be eligible for tax exemption back dated to our date of becoming a registered non-profit on 7/20/12!
We continue to receive inquiries of owner surrenders and senior horses in need of our care, but are equipped to only care for a limited number, as much as I would like to say yes to everyone, I simply can not. We are always in need of donations to help us care for our residents-these seniors with special needs are quite costly to care for.
Siegfried has a Birthday coming up! He turns 24 on February 10, 2013! He is a magnificent horse, full of beauty and charisma, but not without his own set of health issues. The ringbone in his front legs is significant and causes him discomfort a lot of the time. He requires soft, stable ground to navigate on-mats and lots of shavings in his feeding and sleeping areas, joint supplements and anti-inflammatory medication. I have created a WISH LIST for Siegfried's Birthday if you care to purchase a gift for him! I will also open the farm for a 2 hour "Meet & Greet Siegfried" on his birthday weekend! If you wish to come see him, bring a donation or a gift! Details will be announced soon.  How many $25 donations can we raise in Siegfried's name by his Birthday!!!?!  I would love to see enough of them to cover his care for one month 🙂
We are accepting 80 donations towards our Rockin' For the Seniors Fundrasier and when we reach that goal, will draw a name to win one of Alan Daigre's Rope Rockers!
We still have our 2013 Calendars available-each month featuring a different horse in our care! Simply donate $25 and specify "Calendar" and we will mail you one!
We will be scaling back the number of natural horse & body care products that we can make and sell. The needs of the sanctuary are too time consuming at the moment to offer the full array of products. Each season, they will change, and announcements will be made when new products become available. Existing customers need not worry, your orders will continue to be filled!
Thank you for your continued support! Cindy Daigre, Executive Director, Ferrell Hollow Farm Senior Horse Sanctuary