Sunday March 3rd I received a call to help a draft x horse in need of getting out of a bad situation.  Because this was a good friend of mine calling and I knew it was a desperate situation, I agreed even though I did not know anything about the horse.  Once the horse was loaded for transport, I was told it was a mare, she was thin and probably blind with a bad left hind leg.
I got the Quarantine paddock and shed ready for her arrival.  As you can imagine, she was very scared to come off of the trailer and into the paddock.  However once she got a whiff of some yummy orchard grass hay, she relaxed and dove right in!  I named her Ruby.  She is 16 hands tall, weighs a bit over 1,200 lbs and wears a size 82 blanket.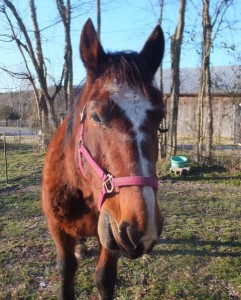 The vet came to check out Ruby today.  She has very little vision in either eye, the right one is cloudy from some sort of an injury.  Her hocks are quite large and there is some soft swelling on the front of the left one.  She came infested with lice, which have been treated.  She has sores all over and her tail has been rubbed off from the intense itching lice cause.  She has had many foals and fortunately she is not in foal now!  She needed a mild float but overall her teeth are in good shape, but do show quite a bit of aging, we estimated her to be at least 25 years old.
I will await her blood test results before making any changes with her, but she will remain in quarantine until the end of March in case she develops any contagious diseases.  She will continue to receive proper care and nutrition and when she is ready will be introduced to a new equine friend!
Ruby is a complete sweetheart!  She uses her nose, feet and sense of smell and hearing to guide her around the paddock to the hay and water.  She is very patient and waits for meals and attention very quietly and is easy to work around.  It will be a challenge to get her feet trimmed with her joint issues, but my vet, who knows me well said, "Cindy put her on some of your herbal mixes, and with your proper nutrition and TLC,  in 30 days she will look like a different horse!" 🙂  Donations towards Ruby's care are much appreciated!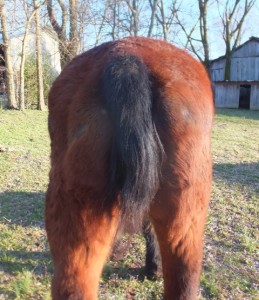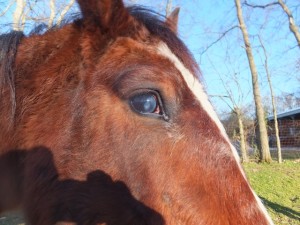 Ruby's injured right eye with limited vision.
Ruby has sores and a rubbed tail from lice and is thin.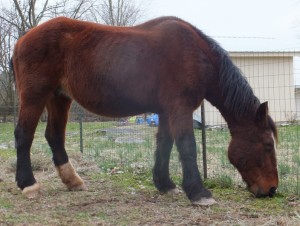 Ruby, after 4 days of TLC, is very comfortable in her new home!