On Sunday September 29, 2013 we welcomed a new senior horse into our sanctuary!  His name is Little Mikey, and he is anything but little!  He is 19.2 hands tall, 22 years old and is a Belgian draft.  Mikey worked as a carriage horse in Key West, FL his entire life, until he was no longer needed or wanted and turned out for a year with no care.   He worked with his sister in FL, but was separated from her and was traded for a car.  He was to be sold to be put back into work, but a nice couple intervened and kept that from happening.
Mikey has severe scratches on all four legs, a skin condition not uncommon in Belgians, and will need daily treatments for some time.  He has an old injury on his left hind leg as well as arthritic joints.  His feet are not in good shape and will be started on our barefoot trimming rotation very soon. He is very sweet and loves people.  He has separation anxiety from being taken away from his sister, so he needed a place where he could develop a lasting bond with others.
He will receive nothing but all the love and care that he deserves here and we are excited to have him.  If you want to follow Mikey's progress, check out our daily updates on our Facebook page or sign up for our email updates.
Thank you!
Cindy Daigre, Founder
Ferrell Hollow Farm Senior Horse Sanctuary
The final act of kindness that I can give to a senior horse in my care that is clearly suffering beyond repair is the act of letting go.  Letting them leave their broken down bodies, and soar to a place where there is no pain or suffering.  This is never an easy decision to make, but a final gift of compassion.
Big Mack took a turn for the worst this week and today we said good-bye to him.  He had a glorious retirement here, with all the love, friendship and care he would ever want.  He touched many people with his sweet disposition.
I won't dwell on his past-how he was used, and abused, and used up some more, well past his prime by greedy human beings.  One day, when the pain is not so fresh, I can acknowledge to myself that I did indeed make a difference in his life.  He was a glorious soul, an angel, so humble and sweet.  He has absolutely been a master teacher to me and will continue to be an inspiration to help those who come here seeking sanctuary.
Please consider making a donation in Big Mack's memory so we can continue to help these gentle giants, who are often cast away once their usefulness to humans is over. www.ferrellhollowfarm.org
My heart is broken and his best friend Buddy and I will miss him dearly.
Please view the Slideshow Photos of Big Mack that I have put together to celebrate his time at Ferrell Hollow Farm Senior Horse Sanctuary!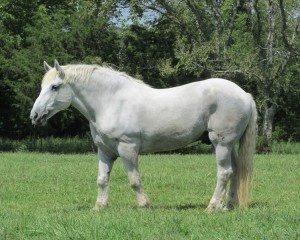 Cindy Daigre
Founder
Ferrell Hollow Farm Senior Horse Sanctuary
www.ferrellhollowfarm.org
info@ferrellhollowfarm.org