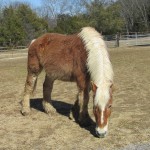 Jackson is a 25 year old Belgian draft horse that we know little about except he was used for harness work and needed a forever home with lots of TLC!  He is a nice guy and it's all about the food for him!  He requires soaked meals and fine, soft hay.  He needs lots of grooming, a customized diet plan, and hoof care needs addressed.  He is extremely itchy, so much so, he has numerous sores all over, especially in between the hind legs and uses whatever tree he can find to rub on!  We need to purchase him a draft halter, start him on a supplementation plan to address his issues and goodness gracious all of the soaked meals he will require!
Please consider a donation to our sanctuary to help with not only Jackson's expenses, but the others in our care.  All contributions are tax deductible as allowed by the IRS as we are a 501c3 non-profit charity.
Enjoy these photos from Jackson's first day!