Seven years ago a woman came to visit the farm and see if what we had to offer was what she wanted for her senior mare, Maggie, who needed retirement care at that time.  They had been long time companions and she wanted her taken care of during her golden years.  All of the years Maggie has been here, she enjoyed everything that we could offer her, despite the continual health challenges of aging.  Her dental health continued to decline, not being able to eat hay for the past 3 years, but we lovingly tended to her thru seven winters!  She came into this spring looking radiant, but in recent weeks began to decline and was diagnosed with a terminal illness. She had just turned 33 in March!
All who met sweet little Maggie fell in love with her-she enjoyed affection and grooming and most of all, her best buddies-first it was Willie, a chestnut gelding who has passed on, then for the past year with Ruby & Henry, who she has adored! We were truly blessed for being allowed to care for Maggie in her long and peaceful retirement.
Maggie, you will be greatly missed by all of us at Ferrell Hollow Farm, your human family and everyone who ever knew you-rest in peace now sweet girl-we love you!
Cindy Daigre, Founder, Ferrell Hollow Farm Senior Horse Sanctuary www.ferrellhollowfarm.org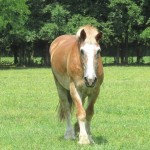 It was one year ago, May 1, 2013, when Henry arrived to our Sanctuary.  He was at New Holland auction in Pennsylvania, and had been sold to a well known kill buyer and headed for slaughter.  A group called Sun Dew Saves Horses were posting him out as "aged Belgian gelding" to see if anyone would pay the inflated kill buyers price to save him from a terrible fate.  It appeared that no one was interested, so we stepped in! We had 2 days to raise funds for his bail and secure transport and get him to safety.  Will our wonderful supporters, we made it happen!
Please consider supporting our efforts to help senior draft horses like Henry who have been used up and discarded have a chance at a happy, peaceful forever home with a donation or sponsorship!   www.ferrellhollowfarm.org
Enjoy the SLIDESHOW of Henry's 1st year at Ferrell Hollow Farm Senior Horse Sanctuary!!