When we became aware of these two horses plight for life and no one was stepping in for them, we had to try to save them.  Thanks to the amazing supporters we have, we were able to and they arrived mid day on July 19, 2014.  Their condition was SHOCKING!  Photos of them from presumably the week before showed thin, old work horses, but that was certainly not the case when they came to their forever home at our sanctuary!  They were skeletons, emaciated and weak.  Arthur was suffering from extreme exhaustion, so much so, all he could do was lay down, even though he was turned out in a big grassy pasture, he had no strength to eat.  He was fighting for his life!  No horse should ever have to endure whatever these sweet boys had gone thru.  Scars from years of hard service to man, passed around from dealer to auction to kill buyers. We don't know their real story, only bits and pieces of what was told to us, true or not.  One thing was certain-we would do whatever was necessary to try to bring them back to health!
Arthur is a Belgian in his late twenties (we think) but his teeth are worn and he still needs to have a dental exam.  Initial vet exam revealed that he is indeed suffering from stress and some inflammation.  In the first two days, he would only take a nibble of food that was offered to him, so our priority has been finding something to tempt his appetite and offer him small meals frequently.  By day 3 he was able to eat 3 small meals and has started to graze and be more interested in his surroundings.  Arthur is a sweet boy, but it will take him some time to trust that he is indeed here forever and no more harm will ever come to him.
Max is a Percheron in his early twenties and he has terrible teeth that do interfere with his eating.  He has a good appetite and will at least try to eat what is offered.  His thin body is riddled with scars and he has some issues with his back end on the left side.  He is a very big boy (18.2 hands tall) and several hundred pounds underweight.  He has an upper respiratory infection and is being treated with antibiotics. Max is friendly, curious and likes attention.
Since their arrival, both boys have had their feet trimmed and seen the vet.  A dental exam will be soon.
Arthur and Max are required to stay in a Quarantine area for 30 days since they have been at auctions and have an unknown medical history-we maintain strict protocols to make sure we do not infect any other horse at the sanctuary.
We hope you will follow the boys progress-we try to update our supporters via Website, Email, Blog entries and Facebook posts.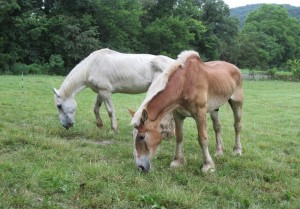 Please continue to support our efforts with senior draft horses!  Here are some ways you can do that:
Donations-Recurring or Monthly donations are needed to provide all of the care they need-Feed, Hay, Supplements, Medications, Hoof Care, Vet and Dental work expenses add up!
Sponsorship-Sponsor one of the boys where your monthly contribution will help feed and care for them!
Donated Goods-check our website Wish List for needed supply items!
*Our sanctuary is closed to the public except for our Open House events*
* Persons interested in becoming a volunteer will need to send an email inquiry, be sc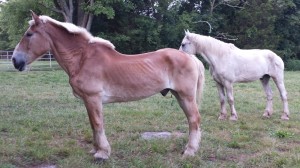 reened to see if you are a fit for our organization and are required to complete an application*
Thank you!
Cindy Daigre, Founder
Ferrell Hollow Farm Senior Horse Sanctuary
Life with Liz is challenging.  Imagine the life she led for at least 12 years: pregnant every year, confined to a standing stall with her urine being collected for 7 months out of an 11 month pregnancy, with little human interaction, her foals just a "by-product" of her preganancies.  Now that she's off the "pee line" she's been forced to conform in a domesticated soceity but was never taught how to handle that.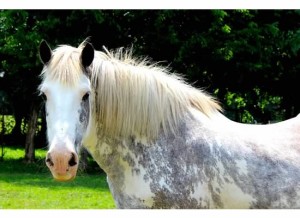 Doctors prescribe hormone replacement therapy drugs to hundreds of menapausal women and one of the most commonly used drugs is Premarin (Pregnant Mares Urine).  Wyeth (a division of Pfizer) manufactures Premarin and this is how it is made: Mares are kept pregnant year after year, and for 7 months of their gestation, they are confined to standing stalls and wear a urine collection device at all times.  Once they give birth and the foals are weaned, the process starts over again.  Foals are considered a by-product of the industry and go to auction, and when the mares can no longer conceive, they too are shipped off.
Even though the PMU ranchers must follow a code of practice,  were horses put on this earth to be exploited in this way?  If they are lucky enough to escape the slaughter pipeline when used up, there seems to be only two options for them: 1-turn them out on large tracts of land where they do not have to be handled by humans, and are no longer expected to reproduce and give urine and live their life freely, or 2-attempt to win their trust and gentle them to humans.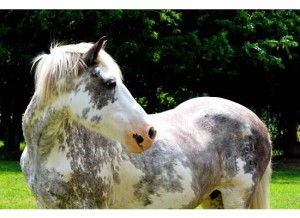 In Liz's case, I would take 1 step forward, and at least 2 backwards for months.  Then, when it was time for full turnout, things seemed to even out.  I was farther along with her training, and some days it seemed she was almost "normal".  Then Spring came, and her hormones likely out of whack from not being bred, she has become extremely reactive and fearful to touch.  What do we do?  Calming supplements, herbs to help ease her cycles, how long do we wait, what is acceptable?
The relationship I have built with Liz is one of mutal respect.  I respect that she is the way she is, but also I have a few expectations of her.  They are not unrealistic.  Some days to her they must seem so.  She trusts and respects me to a point.  No one else has this from her, and likely never will.  She is pychologically damaged by the life she was forced to live by a money hungry pharmaceutical company and it is more than challenging.  Lovely Liz, you are at our sanctuary for life–you have a good one now and I think you know it 😉
Please take the time to educate yourself, your family and doctors on the PMU industry and just say No to Premarin!
http://www.horsefund.org/pmu-fact-sheet.php
http://tuesdayshorse.wordpress.com/2013/11/08/big-pharma-wins-again-fda-approves-aprela-under-new-name/
http://alexadry.hubpages.com/hub/The-Truth-Behind-Premarin
Thank you!
Cindy Daigre, Founder
Ferrell Hollow Farm Senior Horse Sanctuary
Photos curtesy of Sue Doyle