Arthur & Max 2 Week Update
It has been two weeks since Arthur and Max arrived to our sanctuary.  They were emaciated from starvation, weak and exhausted from the travel and fearful of what would happen next.  In the first few days they had their feet trimmed, had a vet evaluation and then saw the dentist.  It took Arthur a couple of days to recover from his sheer exhaustion before he really started eating much.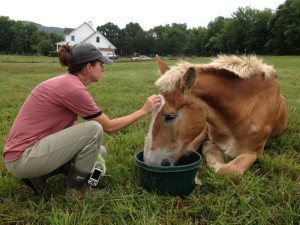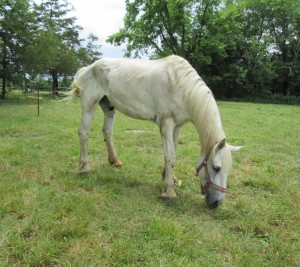 What we have discovered about each one of them:
Arthur is a 30 year old Belgian draft gelding.  He is missing two teeth in the back and his front teeth are worn.   His blood work was fairly normal and he has not had any infections.   He is laid back, quiet and sweet despite having had a hard working life.  He is slowly starting to look better physically–his bony points are not as sharp and his belly is getting filled.  He has access to pasture and hay at all times and also gets several soaked meals, which he enjoys eating.  He has some swelling in his hind legs which may be related to some itchy dermatitis.
Max is around 20 years old.  He is not missing any teeth, however the upper three teeth on his right side have grown abnormally due to injury and don't meet the bottom ones, causing him to drop feed.  He will need further dental work to address that.  He came in with a respiratory infection (coughing and nasal discharge), and while that has gotten better, it is not completely resolved. We feel he has been mistreated and had a significant injury that affects his back and also his mouth.  He has started to show some dominant behavior-aggression towards Arthur at meal times even though they are fed apart, and some irritability at being touched. While he can be pleasant at times, he does not trust humans, and we can't really blame him.  He will require special management which will likely be long term and hope he will learn to trust and that his moods level out.
Please continue to support our efforts as these boys continue their 30 day quarantine and rehab.  All donations and sponsorhips for them go towards what they need: Feed, Hay, Supplements, Medications, and Hoof Care.  We need to purchase another 250 bales of bermuda hay to accomodate their needs this winter and they eat a lot of soaked hay pellet/forage meals too!  They will also need a weatherproof draft turnout sheet before the winter.   Thank you so much to all who have contributed to our efforts bringing these two senior drafts to their forever retirement home!   www.ferrellhollowfarm.org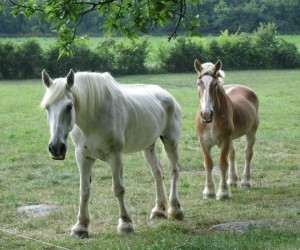 3 Responses to Arthur & Max 2 Week Update