Tribute to Snow White
On 9/1/15 we said good-bye to our lovely Snow White.  She had been rescued in early 2012 from a kill auction, thin, dirty, and discarded with terrible feet that needed a lot of work.  We brought her to our sanctuary a few months after she had been saved to be a companion for Siegfried.  The two instantly bonded and became inseparable-we called them our Royal Couple-beautiful and regal.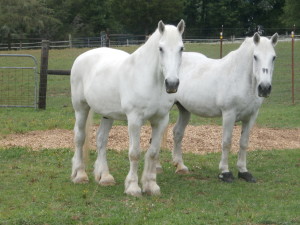 Over the 3 years she was with us she suffered from various conditions-the previously foundered foot that needed rehab, and Cushing's Disease.  Thru it all, she remained strong and we gave her everything she could have wanted, mostly the love she may have not known in her younger years.  She was a grand old lady, at least 35 years of age, and we miss her dearly-and Siegfried certainly does as well.  They shared that once in a lifetime bond that can not be replaced.
We are expecting her final costs (vet bills and cremation) to be around $1,500.  If you feel so inspired to help with that, we would certainly be grateful.
Rest easy old girl,  your troubles are now behind you!
Please take a few moments to watch the Tribute Slideshow we have put together in Snow White's memory.
Thank you,
Cindy Daigre, Founder
Ferrell Hollow Farm Senior Horse Sanctuary
7 Responses to Tribute to Snow White