Ringing in the New Year at the Sanctuary
Days like today, while not uncommon, inspire me to write.
The alarm goes off at 4 am each morning, just in case I forgot to soak the buckets of hay pellets for Henry, Jackson and Tom the night before (yes, there have been evenings where I fell asleep and forgot!). They must soak for an hour before feeding and since Henry and Jackson demand I be prompt with their 5 am breakfast, I must rise that early.
Shiloh, our little Mustang has COPD and has had a tough Fall with his allergy induced respiratory issues. He has been on and off steroids to control his wheezing and Heaves, but just this past week I was able to step him down and off of them. The cold winter months are usually good for him, but this morning the little guy was wheezing. UGH! A dose of Respi-Free for now and steroids will likely need to be resumed in the evening.
During the lunch feeding, I notice Buddy had made it from the lower pasture up to his main run in shelter and wondered why he gimped up the hill alone. I decided I had better check on him, as he was barely putting weight on the right front due to an impending abscess. Chronic abscesses in both of his front feet have been plaguing him for months. One opened in the heel of the left front foot a couple of days ago, but the right front foot has been building like a pressure cooker, near to coming to the surface.
When he saw me, he let out a high pitched squeal telling me he was happy to see me. He had been munching hay and was deciding if he wanted to make the trek back down the hill to be with his BFF's Mikey & Tom. We shared an apple and I decided he could use a "snack" of some senior feed while I groomed him.  As I left him to care for the others, I felt like the abscess was very close to opening up within a day, which meant relief was on the horizon.
I was determined to scrub Ellie's legs today. She is a heavily feathered Shire who has endured some trauma with her past life handling.  She resents having her legs or feet worked on. She had been biting at and making sores and stomping to relieve the itch. To stay safe, a little sedation was in order before undertaking the task.
Before I begin, Kristen, our amazing Sunday volunteer, had hiked thru the pastures to tell me that Shiloh is wheezing pretty hard and I might need to go check on him. So I trekked thru down the fields to find he and Mary standing in their shed resting, and little man is wheezing and heaving worse than at breakfast. No need to delay treatment, so an injection was in order!
After getting back to the barn, I got Ellie to work on her. She decided seeing Siegfried off in the distance was not good enough, she needed him right nearby! So I brought him over-he was elated to find some fresh sprigs of green grass, but was unconcerned that Ellie needed him. The sedation the vet left for her must have been an extremely conservative dose because she never got sleepy, only a bit relaxed.  I did the best I could, and was pleased she didn't try to kick me in the head-success!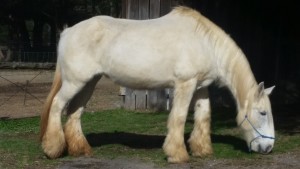 Onward to work on Max-or Mad Max as we often call him, since he has Jekyll and Hyde personality traits! I trust him as far as I can physically throw him not to kick me when working on his legs! He is extremely reactive when working on his legs, so a big tub of hay mixed with alfalfa, apples and treats keeps his mind off of what I am doing, and keeps me safe (most of the time).   He was good as long as the apples lasted, so when the treats were gone, we called it a day-another success!
It is then time to soak meals for Henry, Jackson and Tom (yes, again) and perhaps take a half hour rest. Much to my surprise and delight, Lyric, another awesome volunteer, called to say she had made me a Nut Loaf and was bringing it over so I didn't have to think about dinner! It's a gluten free, vegan recipe that I shared with her, that has now become a favorite. Wow and Yum!
When it's time to feed Shiloh again, I was pleased to see that the steroids had already calmed down the wheezing! Hoping another round of a low dose will set him straight and he can be medication free for the remainder of the winter.
It's now time for the big boys to come in from their daytime pasture.  Tom is ready, lets out a rare whinny, and Mikey has no problem taking orders to follow! He is our 2,500 pound, 20 hand Belgian who is always ready to eat.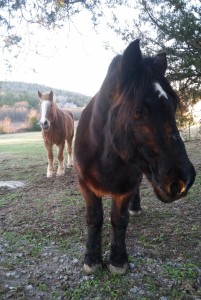 Poor Buddy makes his way slowly up to the shed, but I was delighted to see that the abscess was now open and draining! After carefully cleaning that one, I proceeded to clean the left front heel that is still draining. WHEW, he will be feeling better soon!
Mikey recently abscessed in his left hind foot, and it is still draining, requiring twice a day cleaning. He had been lame for a few days, but is moving well and other than being sensitive about the area where it opened up, is feeling better!
While old man Tom is not without some issues, he rarely causes any trouble-laid back and easy going.  I just so happened to check under his tail and to my disappointment find he needed to be cleaned. He is a very hard keeper when not on grass, but giving him extra winter pasture has kept him healthy and free from the "squirts". After fetching some warm water and a rag to clean him, as I approached to begin he starting projectile squirting brown liquid. That folks, was the very moment, that I decided to call it a day!
If you are looking for me, I will be in hibernation until the alarm goes off at 4 am!
Happy New Year to all!
Cindy Daigre, Founder
Ferrell Hollow Farm Senior Horse Sanctuary
www.ferrellhollowfarm.org
6 Responses to Ringing in the New Year at the Sanctuary