Buddy-Update January 2016
The day before our snow storm I had arranged for our vet and trimmer to be present at the same time so we could take x-rays of Buddy's front feet and determine further treatment options for him.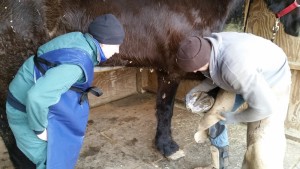 A little history on this gentle giant: Buddy came to us 4 years ago, at the mere age of 11-he had been a carriage horse since he was 3 but he started having significant issues with his joints and despite treatment and rest, he would never be sound to work again.  We offered him a permanent retirement where his needs could be addressed.
The fact that he is 2,500 pounds does not help his compromised joints. He had been diagnosed with severe osteoarthritis in his right hock, as well as having bone chips in 2 different joints.  Our vet said upon reviewing his hock x-rays (taken not long after his arrival), she was surprised he was even standing up as much as he is!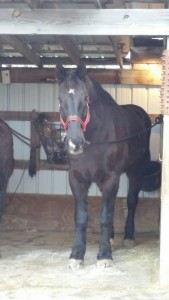 Over the past 2 years he has developed chronic, recurring abscessing in both front feet.  They have compromised his hoof quality as well as his mobility and crippled his quality of life.  Determined to find a solution to help him be more comfortable we decided to give Easy's Slipper a try for him, and hired Brad's Natural Hoof Care for his trim and installation.  While they did help him feel a bit better, there were issues with the glue not holding up on his cracked feet, all the while he continued to abscess. We decided it was best to remove the shoes, soak and wrap the right front foot, which was presenting with the most problems abscessing. That was done for several weeks before the vet came.  A lot of black drainage came out of that foot, it was mostly just rotten at this point. Of course, he continued to be lame, but getting to the root of the infection was going to be important to effectively stop the cycle of pain-lameness-abscess.
We were concerned about infection penetrating the coffin bone, or worse yet a fracture in the coffin bone. The results of the x-rays were not really surprising, but they did give us more information on further treatment. He does have a fairly significant amount of coffin bone reabsorption, a trapped abscess pocket and likely infection in the coffin bone. He was trimmed according to the x-rays, removing a lot of the decaying toe material and leaving access to packing and hopefully draining out the rest of the infection.
He will need to go on antibiotic medication for at least a month, probably more. A big horse requires a big dose twice a day! Both feet need to be soaked, packed and wrapped for a period of time to draw out the infection.  Is it a sure thing that with antibiotics and the hoof treatment we will beat the infection? No, it isn't. But as our trimmer Brad said to me, "We won't let him go down without a fight!"
As difficult and emotional as this has been for me, having a support system such as our vet and trimmer on board with his treatment plan, sure makes it feel like I am not alone in this fight!
Buddy is our January Horse of the Month. If you would like to help support Buddy by being a monthly sponsor, giving a one time donation towards his care, or purchasing an item off of his Wish List, we would sure appreciate it!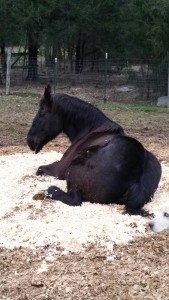 Cindy Daigre, Founder
Ferrell Hollow Farm Senior Horse Sanctuary
Like our Facebook page and stay up to date on what is happening at the sanctuary!
2 Responses to Buddy-Update January 2016