Geronimo One Week Update
We have had Geronimo for one week and time has flown by.  Here is what we have accomplished this week with him:
He got a bath, he got his feet trimmed, the vet came to x-ray his feet,  and his hind legs were treated for mites!
His biggest issue is his foundered foot-it shows sign of previous abscessing and x-rays revealed severe rotation of the coffin bone as well as sinking.  He is such a trooper for enduring approximately 2 years with his foot like this. The other front foot is actively abscessing and we are working to rid him of the infection.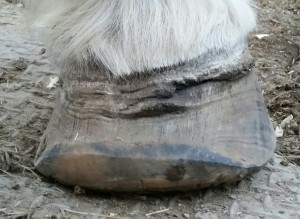 It has been difficult to determine if he has stringhalt in the back legs as his snappy hock action while not all of the time, is still present. The way he has to walk with his front feet very well contributes to the stringhalt like action of the hinds.
He has a big fluffy shavings pit that he likes to lay in several times a day when he needs a break. He receives 3 meals a day and as much Bermuda hay as he will eat.  He also loves Triple Crown's Safe Starch chopped forage for snacks!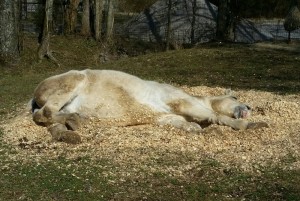 On nice days he is allowed to come out of his paddock to graze in the barnyard for about an hour and this makes him quite happy.  He is always pretty willing to return to his paddock for a snack and then a nap!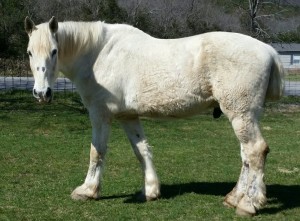 We are working as the weather permits to upgrade & improve our paddocks to be able to move him over next to some other horses. He is fine where he is as he can see them but will likely be even happier with neighbors.
He is a gentle, loving horse who is willing to please. I feel honored to be able to care for him.
Cindy Daigre, Founder
Ferrell Hollow Farm Senior Horse Sanctuary
4 Responses to Geronimo One Week Update