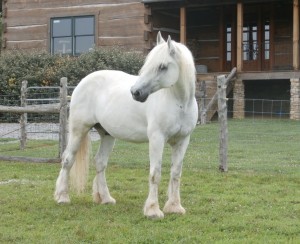 The evening of 6-25-14 we welcomed Sam, a 22 year old Percheron gelding into the sanctuary!  Three years ago, Sam was discarded at the Camelot auction in NJ presumbably because he was blind.  Fortunately he was rescued and then adopted into a loving home.  Sam has retinal detachment and glaucoma in his left eye, which is white and completely blind.  Sight was failing in his right eye as well, but a corneal implant procedure was done to restore his sight, knowing it would only last a few years at best.  Six months ago when his implant began to fail, and he started loosing sight in the right eye, his loving home felt their steep terrain was not safe for him to navigate.
Sam is a very sweet and loving boy.  He interacts very well with people.  He was transitioned into the pasture with Henry and Ruby (also blind) and they have been very welcoming and kind to him.  Sam is still trying to figure out his new surroundings and routine, and in the meantime is being showered with attention, love and has a very safe and secure place to now call his forever home!
Ferrell Hollow Farm Senior Horse Sanctuary is a 501c3 non profit organization, and your contributions allow us to continue to provide outstanding care to these special needs senior horses–thank you! Cindy Daigre, Founder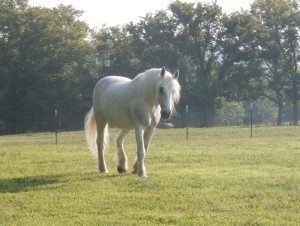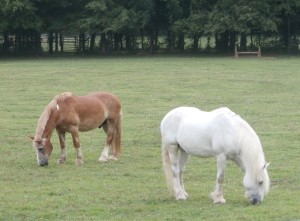 Seven years ago a woman came to visit the farm and see if what we had to offer was what she wanted for her senior mare, Maggie, who needed retirement care at that time.  They had been long time companions and she wanted her taken care of during her golden years.  All of the years Maggie has been here, she enjoyed everything that we could offer her, despite the continual health challenges of aging.  Her dental health continued to decline, not being able to eat hay for the past 3 years, but we lovingly tended to her thru seven winters!  She came into this spring looking radiant, but in recent weeks began to decline and was diagnosed with a terminal illness. She had just turned 33 in March!
All who met sweet little Maggie fell in love with her-she enjoyed affection and grooming and most of all, her best buddies-first it was Willie, a chestnut gelding who has passed on, then for the past year with Ruby & Henry, who she has adored! We were truly blessed for being allowed to care for Maggie in her long and peaceful retirement.
Maggie, you will be greatly missed by all of us at Ferrell Hollow Farm, your human family and everyone who ever knew you-rest in peace now sweet girl-we love you!
Cindy Daigre, Founder, Ferrell Hollow Farm Senior Horse Sanctuary www.ferrellhollowfarm.org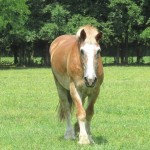 It was one year ago, May 1, 2013, when Henry arrived to our Sanctuary.  He was at New Holland auction in Pennsylvania, and had been sold to a well known kill buyer and headed for slaughter.  A group called Sun Dew Saves Horses were posting him out as "aged Belgian gelding" to see if anyone would pay the inflated kill buyers price to save him from a terrible fate.  It appeared that no one was interested, so we stepped in! We had 2 days to raise funds for his bail and secure transport and get him to safety.  Will our wonderful supporters, we made it happen!
Please consider supporting our efforts to help senior draft horses like Henry who have been used up and discarded have a chance at a happy, peaceful forever home with a donation or sponsorship!   www.ferrellhollowfarm.org
Enjoy the SLIDESHOW of Henry's 1st year at Ferrell Hollow Farm Senior Horse Sanctuary!!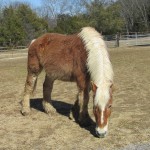 Jackson is a 25 year old Belgian draft horse that we know little about except he was used for harness work and needed a forever home with lots of TLC!  He is a nice guy and it's all about the food for him!  He requires soaked meals and fine, soft hay.  He needs lots of grooming, a customized diet plan, and hoof care needs addressed.  He is extremely itchy, so much so, he has numerous sores all over, especially in between the hind legs and uses whatever tree he can find to rub on!  We need to purchase him a draft halter, start him on a supplementation plan to address his issues and goodness gracious all of the soaked meals he will require!
Please consider a donation to our sanctuary to help with not only Jackson's expenses, but the others in our care.  All contributions are tax deductible as allowed by the IRS as we are a 501c3 non-profit charity.
Enjoy these photos from Jackson's first day!
Two months ago I was called upon to help another senior draft horse.  We were not looking to take in another just yet, however the mare was fairly local and I could go take a peek at her.  After seeing her I knew two things: 1-she needed to come to our sanctuary and 2-she was going to be quite a challenging project horse!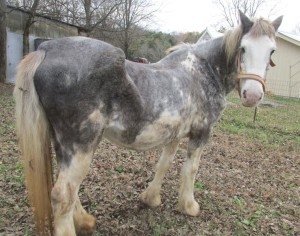 Liz upon arrival 11-9-13.
Liz is a 21 year old grey roan Clydesdale mare who was a victim of the PMU industry.  Mares are kept pregnant year after year so their urine can be collected to make the hormone replacement therapy drug Premarin.  Liz has the number 51 branded on her left hip, which is how the PMU farm identified her. The foals they produce are considered a "by-product" of the industry and most end up at auctions and slaughter plants.  When the mares are no longer able to breed, they too often find themselves in this situation-old, unhandled, used up and unwanted, destined for slaughter.
More about Premarin
Liz spent the first 30 days in Quarantine where she was taught to respect her human care-taker.  She had to be taught to be haltered and handled.  It took 10 days to be able to touch her shoulder without her flinching and shying away.  It took 3 weeks before I could touch her hindquarters.  Handling her legs and treating the visible pastern lesions were a No Go until 4 weeks.  She has long feathering on her legs, characteristic of the Clydesdale breed,  and close inspection and parting of the hair revealed some pretty nasty lesions that needed immediate attention!  She was also biting her front legs and stomping her hind ones.
Left front leg without anti-histimines gets so out of control and un-touchable!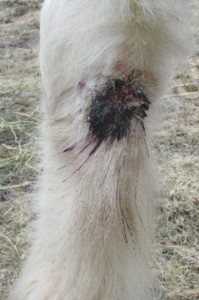 Left front leg after 7 days of daily treatment with Equiderma Skin Lotion!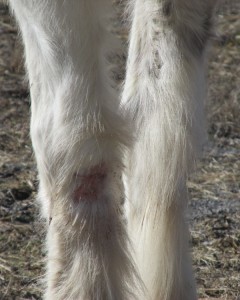 Her current routine is day time turnout in the large dry lot, which is situated where she can see most all of the other horses on the farm and get friendly with Henry, Ruby and Maggie if she feels like it.  In the evening she is brought into the barn for the night in a dry comfy stall with plenty of hay and water.  Each night before "bedtime" we have our routine of grooming and inspecting all legs and treating the pastern lesions.  Currently we are working on teaching her to pick up her front feet for handling and cleaning.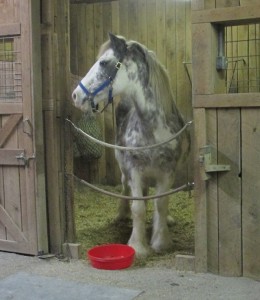 She has seen our equine dentist, veterinarian and is starting to have her feet trimmed on a regular basis. Her hoof handling is still a work in progress and will take several more months before she will be completely comfortable with that.  She is still very wary of anyone except her primary care-giver (Cindy) and we have been introducing her to volunteers to assist with certain aspects of her care.  She will retain this routine for the winter and when the grass begins to grow, she will have full turnout in a large pasture with a suitable companion.  For now, she is quite content with her new life, has gained the needed weight and is slowly learning to trust humans–we all don't want to take something from you without giving back sweet girl!  At least not those of us at our Senior Horse Sanctuary!
Please consider a monthly sponsorship or donation to help care for Liz!  She requires daily anti-histimine medication for the extreme itchiness with her pastern dermatitis. Donate Here
Cindy Daigre, Founder Ferrell Hollow Farm Senior Horse Sanctuary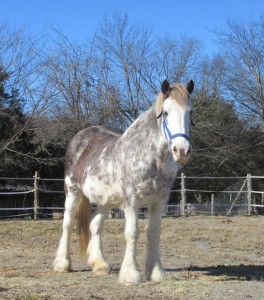 Liz after 2 months of care!
We've had the coldest new year on record in 20 years!  Caring for a dozen special needs senior horses on a daily basis, without temperature extremes can be exhausting, never knowing what you might face on any given day.  Add in sub zero temperatures, wind, frozen ground for days, snow….well you get the picture-COLD!
In the middle of afternoon feeding rounds, as I was dreaming about sitting in front of the wood-stove, I saw that Snow White was laying down in her frozen shavings pit with Siegfried standing next to her.  Visions like this stop me in my tracks.  I knew that several days of frozen ground were not kind to her foundered foot, and that she was tired from not laying down for a night or two.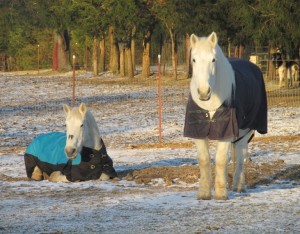 All thoughts of how my knees were aching, hands were hurting, how cold and tired I was faded away.  All that mattered was how could I help this sweet old lady feel better.  Discovering that all the faucets in the barn were now frozen, despite all efforts to keep them working, I had to use a crow bar to hack thru 6 inches of ice in the water troughs making a hole large enough for a bucket to dip down in order to fill all heated tubs and buckets.  Drinkable water was crucial.  As I cleaned their large run in shelter which is floored with stall mats and shavings, I carefully picked out any frozen nuggets of manure that would be uncomfortable for her to walk or stand on.  Then I added several bags of fresh shavings to the pit she likes to lay in, making it soft and fluffy instead of cold and frozen.  Hay nets are always hung in the areas where mats are on the ground so they can stand in comfort.
She rose and came over to eat her dinner and went on about her business as usual.  It only takes a moment like this, seeing these two gentle giants comforting each other to remind me about what my life's purpose is–to give back to these forgotten old souls that need a soft place to land.  Our mission is to give sanctuary to senior horses who would otherwise not have a chance at a forever retirement home.  It is truly my honor to care for them each and every day, no matter the weather conditions, to keep them safe, healthy and as comfortable as possible for the time that they have left with us.  Consider supporting our efforts if you can.  Donations are always needed to help care for them.
Cindy Daigre, Founder
Ferrell Hollow Farm Senior Horse Sanctuary
Follow us on Facebook
Liz is an 18+ y/o grey roan Clydesdale draft mare who was a victim of the PMU industry.  Mares are kept pregnant year after year so their urine can be collected to make the hormone replacement therapy drug Premarin.  Liz has the number 51 branded on her left hip, which is how the PMU farm identified her. The foals they produce are considered a "by-product" of the industry and many end up at auctions and slaughter plants.  When the mares are no longer able to breed, they too often find themselves in this situation-old, unhandled, used up and unwanted, destined for slaughter.
Liz has changed hands a few times over the past several years and needed a retirement setting where she can get medical, dental, and hoof care attention that she needs, as well as a nutritional plan to bring her back to good health.  She has had very little handling in her life and is scared of people.  She will need quite a bit of work teaching her to trust, but when we saw this gal a few days ago, we knew we needed to attempt to give her a chance!
We have been given the opportunity at a matching donation challenge!  If we can raise $500 in the next 10 days, a donor has agreed to match that!!!  That would be an amazing blessing to help us with Liz's initial expenses as well as the ongoing expenses of running our retirement sanctuary for these special senior horses!
Links to educate yourself about the PMU Industry (there are more suitable synthetic options available!):
Thank you!
Cindy Daigre, Founder
On Sunday September 29, 2013 we welcomed a new senior horse into our sanctuary!  His name is Little Mikey, and he is anything but little!  He is 19.2 hands tall, 22 years old and is a Belgian draft.  Mikey worked as a carriage horse in Key West, FL his entire life, until he was no longer needed or wanted and turned out for a year with no care.   He worked with his sister in FL, but was separated from her and was traded for a car.  He was to be sold to be put back into work, but a nice couple intervened and kept that from happening.
Mikey has severe scratches on all four legs, a skin condition not uncommon in Belgians, and will need daily treatments for some time.  He has an old injury on his left hind leg as well as arthritic joints.  His feet are not in good shape and will be started on our barefoot trimming rotation very soon. He is very sweet and loves people.  He has separation anxiety from being taken away from his sister, so he needed a place where he could develop a lasting bond with others.
He will receive nothing but all the love and care that he deserves here and we are excited to have him.  If you want to follow Mikey's progress, check out our daily updates on our Facebook page or sign up for our email updates.
Thank you!
Cindy Daigre, Founder
Ferrell Hollow Farm Senior Horse Sanctuary
The final act of kindness that I can give to a senior horse in my care that is clearly suffering beyond repair is the act of letting go.  Letting them leave their broken down bodies, and soar to a place where there is no pain or suffering.  This is never an easy decision to make, but a final gift of compassion.
Big Mack took a turn for the worst this week and today we said good-bye to him.  He had a glorious retirement here, with all the love, friendship and care he would ever want.  He touched many people with his sweet disposition.
I won't dwell on his past-how he was used, and abused, and used up some more, well past his prime by greedy human beings.  One day, when the pain is not so fresh, I can acknowledge to myself that I did indeed make a difference in his life.  He was a glorious soul, an angel, so humble and sweet.  He has absolutely been a master teacher to me and will continue to be an inspiration to help those who come here seeking sanctuary.
Please consider making a donation in Big Mack's memory so we can continue to help these gentle giants, who are often cast away once their usefulness to humans is over. www.ferrellhollowfarm.org
My heart is broken and his best friend Buddy and I will miss him dearly.
Please view the Slideshow Photos of Big Mack that I have put together to celebrate his time at Ferrell Hollow Farm Senior Horse Sanctuary!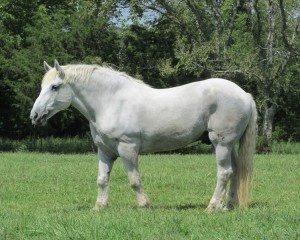 Cindy Daigre
Founder
Ferrell Hollow Farm Senior Horse Sanctuary
www.ferrellhollowfarm.org
info@ferrellhollowfarm.org
This morning we had to say good-bye to Eagle.  He arrived 4 years ago and struggled with many health issues related to his Cushing's Disease.  His disease had progressed, causing increasing difficulties for him that were not able to be managed any longer.  Eagle was a sweet, kind horse who always tried his best despite whatever might have been ailing him.  His long time companion, Tess, will surely miss him–they were mates here for the past 3 years.  Eagle, I hope that you are running free in ample green grass, but know you will never be forgotten!  If you would like to make a donation in Memory of Eagle, you may do so HERE.  Thank you to Dr. Wright of TN Equine and Dave Thomas of All Tenn Pet Cremation Services.