Siegfried turns 24 years old February 10, 2013!  While many of our sanctuary horses we do not know much about their past, let alone their birthday, we do know a bit about Siegfried.  He spent his working career as a jousting horse in New York.  Quite noble and bomb-proof, I imagine he was a wonderful mount for the sport!  He is an 18 hand, 2,200 lb Percheron Draft horse, born black, has turned pure white as he has aged.
Read more about Siegfried's Bio.
We will be honoring Siegfried's birthday by opening the part of the farm which he resides for a short "Meet & Greet" on Saturday February 9th from Noon to 2:00 pm.  You will be able to visit with he and his lady friend Snow White, and quite possibly catch a glimpse of the other horses who reside here.  Please note that the entire farm will not be open for tours on this date.  However, mark your calendars for Saturday May 18th, as we will have the entire Sanctuary open for visitors!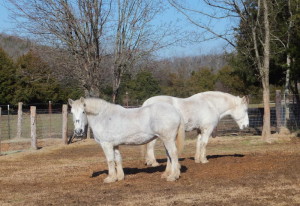 Siegfried does have a Wish List for his Birthday!  A few of the items have already been purchased for him -the Fly Sheet has been ordered and Nicker Treats have arrived!  We do love the Equi-Spa products for him as he loves bathes in the warmer weather!   We can always use bagged Pine shavings to keep his shelter/stall and sleeping areas dry and fluffy!  Any and all Donations are greatly appreciated!
Siegfried's Diet: In case you were wondering just what does it take to keep this handsome beast so good-looking, here is what he receives each day!
50 lbs Bermuda Grass hay
1 lb Alfalfa Hay
4 cups Ration Balancer pellets (Triple Crown Lite)
Stabilized Flax Meal
Kauffman's Equine Gold (Pre/Probiotic)
High Point Vitamin/Minerals
Smart Flex IV Ultimate Joint Supplement
Vitamin C
Devil's Claw (for pain & inflammation of his Ringbone)
On occasion, he requires also Firocoxib prescription anti-inflammatory medication for the Ringbone
Nicker Treats, and lots of love and attention!
As you can imagine, it is quite costly to care for him, and we would appreciate any Donations you could manage to help us continue giving him the best in his senior years!